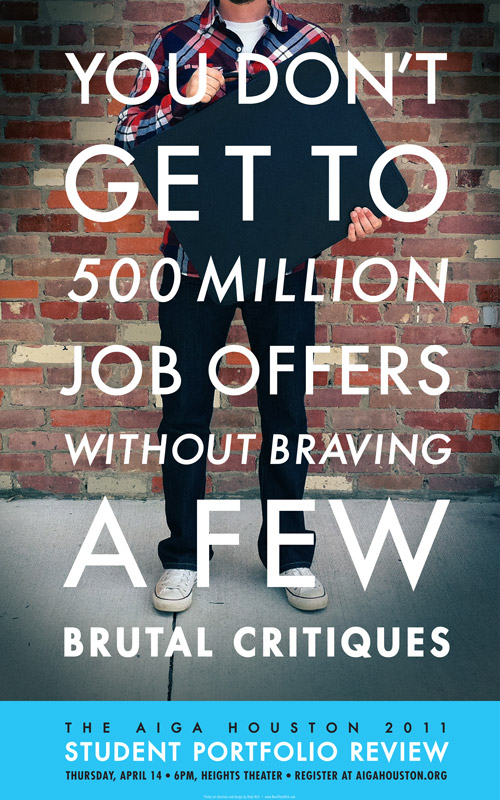 Well students, it's that time of year again!
You've been working on your portfolio for months, perfecting projects, pushing yourself, agonizing over the tiniest details… and now you're ready to step into the big bad world of professional design. But your hard work can't exist in a vacuum. The difference between good work and bad work can often depend on one thing: the good, honest feedback you receive, and what you do with that feedback.
AIGA Houston's 2011 Student Portfolio Review is your opportunity to not only showcase your work to many of the top creative pros in Houston all in one evening, but to get important face time with them as well. You'll make new contacts and gain valuable advice on how to make your portfolio shine. And who knows – if you're lucky (and very talented), you may just walk away with an interview at your dream studio (it happens every year).
The AIGA Student Portfolio Review is an exciting experience. Bring your best work, a good attitude, and a strong chin – after all, this event is designed to be a brutal (but constructive) review of your work. Yes, it can be an unnerving experience, but that's the idea. Take advantage of that. It can be one of the most eye-opening experiences in your burgeoning design career. Remember, just about everyone in AIGA Houston (and our reviewers) know what it's like to be in your shoes, and how beneficial these kinds of events can be. You'll also be sharing this experience with students from all over the Houston area, so it's a great opportunity to make new friends who are in the same boat.
The event will be Thursday, April 14 from 6-10pm at the Heights Theater / M2 Gallery. Registration is open, so reserve your spot today!
BE SURE TO REGISTER ONLINE before Tuesday April 12 to take advantage of the special discount Early Registration rate (and to guarantee your spot!). AIGA student members pay just $10 (non-members are $20). Hurry, because registration is limited and the prices WILL go up on April 12. Paying at the door the day of the event will not available.
To register, click here.
For any questions, email me at education@houston.aiga.org
For a list of FREQUENTLY ASKED QUESTIONS, click here.