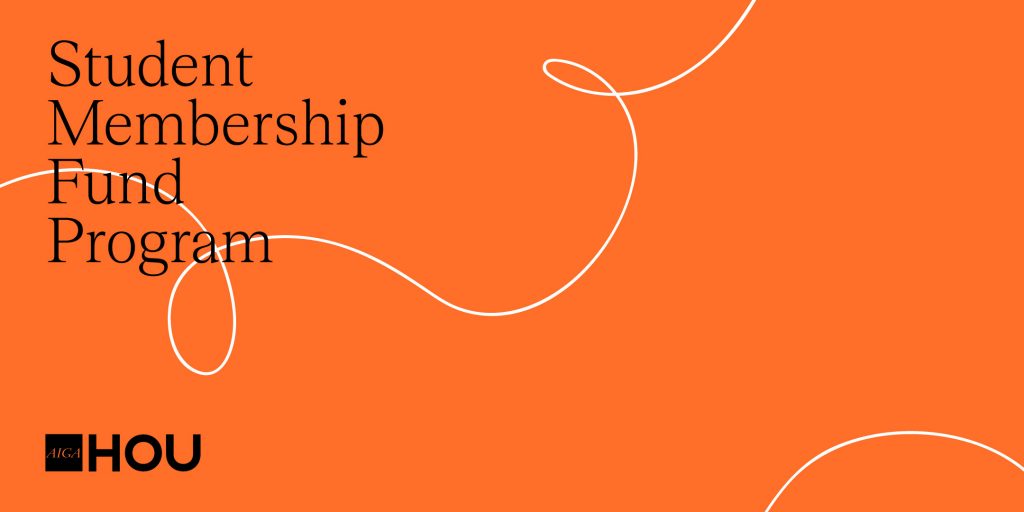 Student Membership Fund Program
Spark the next generation of creative talent in Houston.
On February 18, 2023, we celebrated our 25th anniversary and announced the launch of AIGA Houston's Student Membership Fund Program. Through this initiative, we can give the gift of AIGA membership to local students experiencing financial hardship or belonging to marginalized and/or underserved communities.
Help fund an AIGA membership for a student today. Your contribution will have an immediate and lasting impact. It will provide an opportunity for undergraduate and graduate students to achieve their educational and professional goals, as well as give back to communities through their work.
How it Works
Contribute to the fund.

Make a gift through our PayPal donation page.
An AIGA student membership active for one year is valued at $50.
Funds raised during the current year will purchase AIGA memberships active for the following year.

Students apply for the program.

Eligible students can apply through our annual Student Membership Fund Program form.
Our goal is to award a minimum of 10 students each year.
Any donations exceeding our goal may be rolled over to the following year's fund or gifted to additional students.

Committee reviews applicants and awards students.

Candidates will be reviewed and notified by December 1.
Winners will be awarded at our annual Holiday Party.
Program Applications
Interested students may apply to be considered as a Student Membership Fund Program recipient as long as eligibility requirements are met.
Who is Eligible
Undergraduate or graduate students
Attending any accredited, two- or four-year U.S. institution
Studying graphic design or related field of study
Must live in Houston or the surrounding area
Deadline
2023 Student Membership Fund Program applications close Friday, November 10, 2023, 11:59 p.m. CT.
See details for this year's application here.
---
Questions?