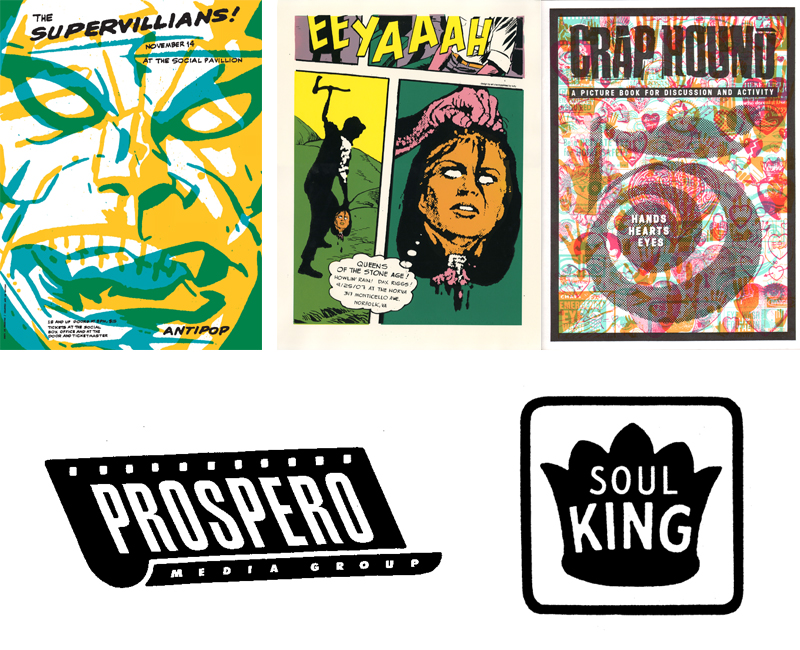 1. What are you working on now?
I have a couple of small projects,  a logo here, an illustration there, not too busy just now (like everybody else out there). Once in a while I get hired to do a local poster for a few bucks. It's extremely rare when I get asked to do a record cover nowadays. you don't need a record cover for a download, ya know?
There are two projects I'm working on at the moment that have any real heft to them. One is a book project on the graphic history of "The Rocket", a magazine published in Seattle that ushered in the underground era of grunge and launched the careers of dozens of photographers, writers, illustrators, typographers, cartoonists, designers and art directors.  A list of the names of the people who contributed regularly to that magazine reads like a who's who of the underground scene.  At one point, the art directors of metropolis, the village voice, newsweek, details, vibe, guitar world, real simple, entertainment weekly and vanity fair were all former rocket designers or art directors. People like Lynda Barry and Matt Groening kick-started their careers there. Sub Pop records started as a record review column at The Rocket.  It was a crazy place, you might even call it a "genius cluster",  a book about the art of that magazine will be an eye-opener for the graphic design world.
The other thing i'm working on right now is a
facebook™ page
(my own) where i take the time every morning to sit down and write an essay about something i find laying around my "junk store of a studio".  I think of it as a sort of 'show and tell' of cool nifty crap I've saved. I pick an object and then sit down and start typing an essay about it and it's history or it's context or whatever.  Because I'm a designer, it's always from that perspective and because i'm a odd designer, I bring a different sort of perspective to the item at hand. It's become rather popular among the regular readers and I look forward to writing it every morning and responding to info or comments made by the readers. The best thing about it is that I'm developing writing chops that I'm really enjoying. It's a lot of fun.
For instance, this morning I talk about some 'art stamps' that an interesting artist friend named Charles Krafft made about a friend of his named Von Dutch.  through Charlie Krafft, i got to know the legendary Von Dutch and I even hired him to do a cover for The Rocket magazine, it was a disaster.  It's a great story.
2. You advocate a low-tech approach to design that is, at the same time, informed by graphic design history. What's the best way for young designers to approach this?
Well, it's true that I've never advocated the computer as a design tool. Frankly, i think it's a terrible design tool. Your mind is much better at design that the computer, actually.  That isn't to say that i don't think the computer isn't amazing and the internet is beyond a revolution, it may be an EVOlution. I've been accused of hating computers for years. that's silly and not true. I just think it's a sucky design tool, and even worse print production tool.
As for students and beginners, I suggest doing all your work with your hands. Sounds weird, I know, but start to restrict your options. Force yourself to think through your hands. If you never learn to do that, then it doesn't matter if you design with a pencil or a computer, you won't ever be a very good designer. You may be a great DECORATOR, but never a great DESIGNER. There is a very big difference.
Basically, start to use your head and rely on your brain. It doesn't matter what you work with, you need to do the work with your head. It's all in the head. The hands are physically linked to your head. No joke. Start at your hands and follow up the arm to your shoulder and you'll notice that YOU HEAD IS RIGHT THERE!!! There is a direct connection between the two!!! You sure don't have that with a computer.
3. In recent years there's been a huge explosion of interest in venue posters. What, in your opinion, do you think is responsible for this newfound awareness?
I have to give solid credit to a website called gigposters.com.  I heartily recommend that everybody reading this go explore that site. Prior to the development of that website, there were maybe barely 100 poster artists in the U.S. doing these gig posters. and i think that's really stretching it, including the folks who only did one or two now and then. Then the website began in 2002.
After gigposters started the number have swollen to such a hug faddish interest that there currently listed nearly 10,000 poster artists and over 100,000 posters.  The site originally started out as a place to post cool old punk posters, there was a chat board that attracted fans and wannabes as well as old timers (people just wanted to interact with peers.  we all get so isolated).  now, it's dominated by people who began doing posters in the aftermath of the site's growth in popularity and almost all the posters displayed are of recent origins. It launched a thousand ships, literally.
It's also created one of the few places that the young hungry designer or (especially) illustrator can go to practice their art. The market for contemporary illustration had taken a huge hit over the last 10 or 20 years. The only place where an illustrator could start a career that could actually go anywhere fun seemed to be rock posters. YOU become the client calling the shots, even thought there are restrictions (even more than back in the day when i was making lots of these posters) you still have the freedom of calling your own shots, being your own art director and client. There have been many many startling talents that have budded and the bloomed into wonderful flowers through gigposters. In a strange way, gigposters saved american illustration from disappearing all together.
I very very highly recommend getting in there and asking questions and giving it a try.  Beware, it's a tough no-holds-barred atmosphere and you've got to develop a thick skin. It can be downright cruel but, in the long run, it's worth the effort. You will get involved in cool stuff you've only been able to dream about. Many already have really cool careers thanks to
gigposters.com
.
For more information visit: