"Design has a huge impact for people who really need to get their message out," said Michelle Coffey, in an interview with Andy Rich, President of AIGA Houston. Coffey is a designer and board member for A 2nd Cup, a non-profit organization and coffee shop working to end human trafficking and support the victims thereof.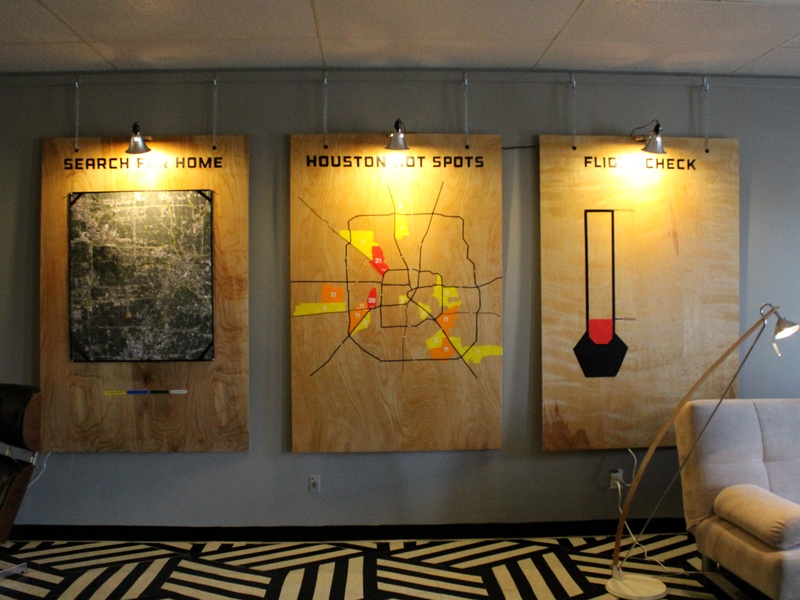 Statistics on Human Trafficking hung up the former A 2nd Cup space, image courtesy of CultureMap
A 2nd Cup began in November 2011, and opened up a space in Height's area church The Houston Vineyard in June 2012, serving coffee to patrons on Tuesday nights and Sunday mornings. Founded by Erica Raggett, A 2nd Cup was meant to serve two purposes: one, to serve great coffee and be a welcoming space for the community, and two, to bring awareness and support to victims of sexual trafficking, which is a particular problem in Houston.
"Most of the calls that come into the Human Trafficking Hotline come from Texas, and especially Houston," explained Coffey. Indeed, Houston is a hub. In an expose on sexual trafficking, Texas Monthly cited a 2004 report that estimated one quarter of all trafficking victims end up in Texas.  In 2007, The Department of Justice also named Houston as one of the top 20 trafficking areas in the country.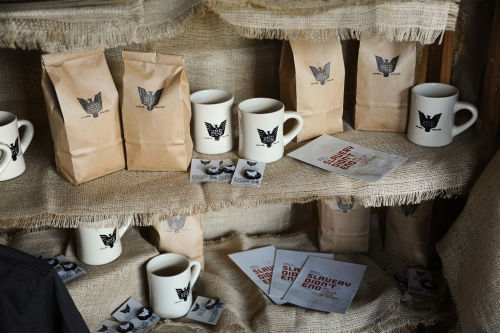 A 2nd Cup branding, image courtesy of Houston Press
"My role has been to bring design to the human trafficking cause," said Coffey. The branding for A 2nd Cup is simple, and by no means shy. The black phoenix rising on kraft or white stock, with pops of red makes a bold statement, both for coffee and for A 2nd Cup's mission.
"The name… was the heart behind what Erica saw as being a second chance for survivors—on the trafficking side. On the consumer side, she knew a lot of people take their first cup of coffee at home in the morning, and then get their second cup [later]," says Coffey, who emphasized A 2nd Cup is a coffee shop first, with a dedication to quality roasting and well-trained volunteer baristas. "I took [those ideas] and applied [them] to… a phoenix… a second rising, a second chance."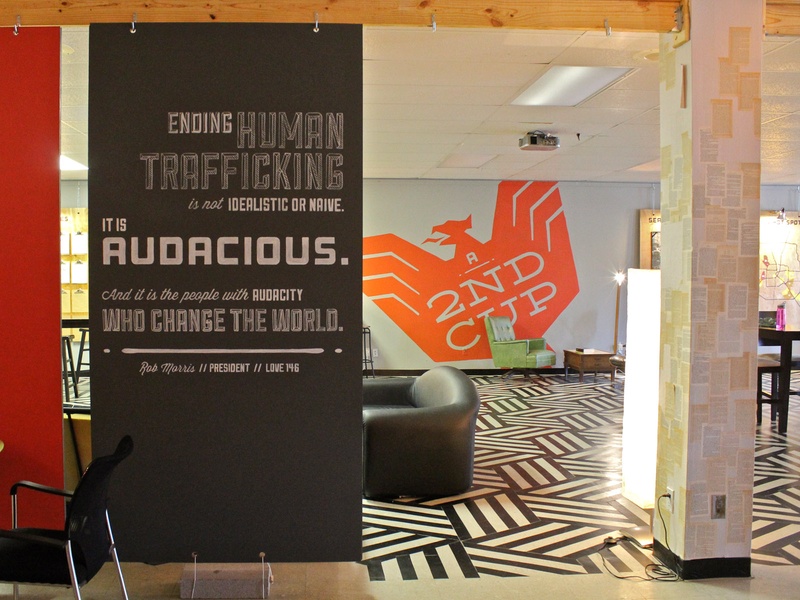 The A 2nd Cup space, previously located at The Houston VIneyard, image courtesy of CultureMap 
Now, A 2nd Cup needs help from its community. The Houston Vineyard decided to renovate their campus, and asked the coffee shop to close up last month. The A2C board is searching a for a permanent space to call home, and are halfway to reaching their $220,000 goal.
Recently, GOOD and TOMS founder picked A 2nd Cup to be one of the 30 finalists for their "Start Something That Matters" campaign, as reported by the Houston Press. With only 3 days of voting left, A 2nd Cup stands to receive a $50,000 prize as a further boost toward their goal of a permanent retail space, and much-needed publicity for their cause. Vote here, and help support coffee with a mission.
If you would like to support A 2nd Cup by volunteering, you can also get involved here.