Have you ever wondered what it's like to serve on the board? We asked a few current and past board members to provide a quick testimonial about their personal experience!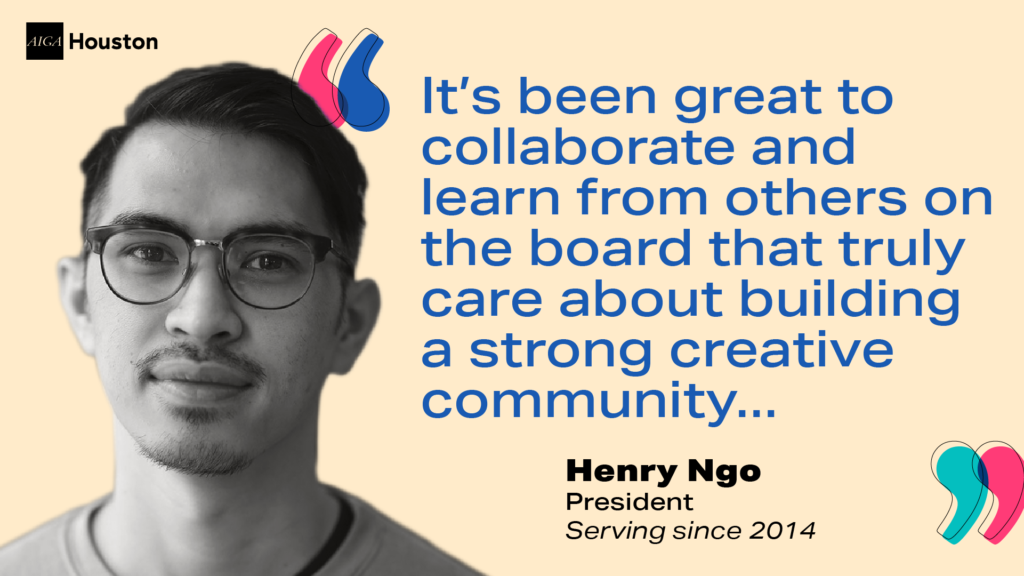 Henry Ngo
President
Board Service: 2014 – present
"Volunteering on the board for AIGA Houston has not only helped me connect with amazing creatives locally and nationally, it has also allowed me to develop skills that have helped me in my career. It's been great to collaborate and learn from others on the board that truly care about building a strong creative community in Houston."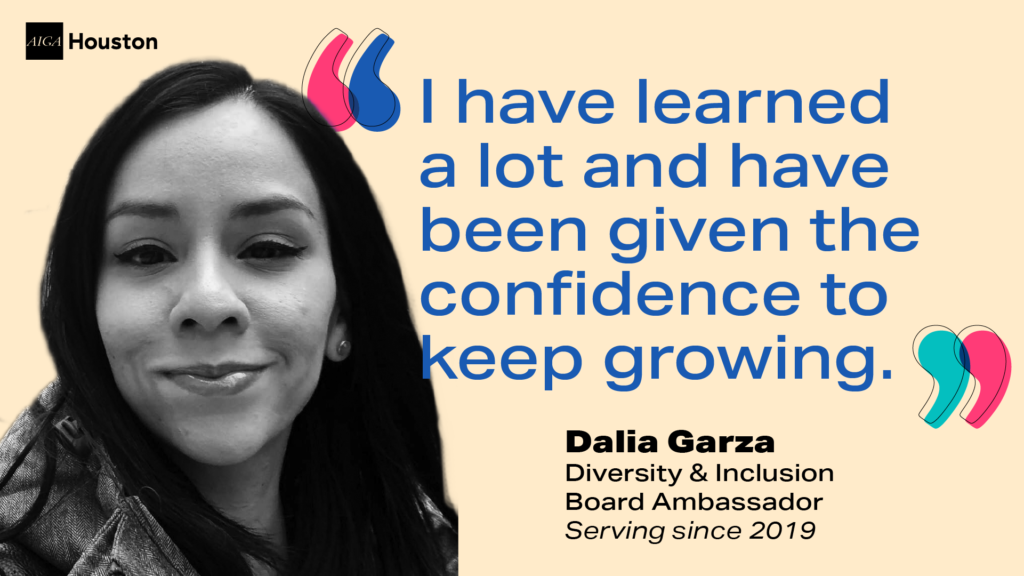 Dalia Garza
Diversity & Inclusion Board Ambassador
Board Service: 2019 – present
"As a person without a design background, AIGA has exposed and welcomed me to the creative area. I have learned a lot and have been given the confidence to keep growing. Most importantly I have met a lot of amazing creatives in my community!"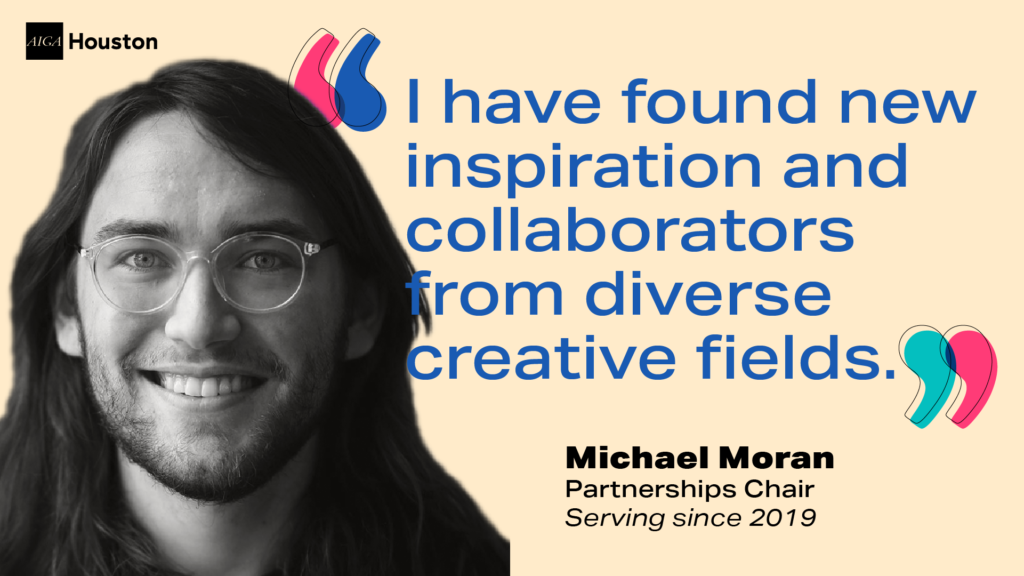 Michael Moran
Partnerships Chair
Board Service: 2019 – present
"AIGA Houston has been a key piece of my design toolkit since my senior year at Rice. Without a formal design education, AIGA has connected me to the local creative community, helped me strengthen my skills, and enabled me to put down roots in this city! Through the AIGA Houston mentorship program, I got my first agency job after graduating, and through the general meetings, I have found new inspiration and collaborators from diverse creative fields."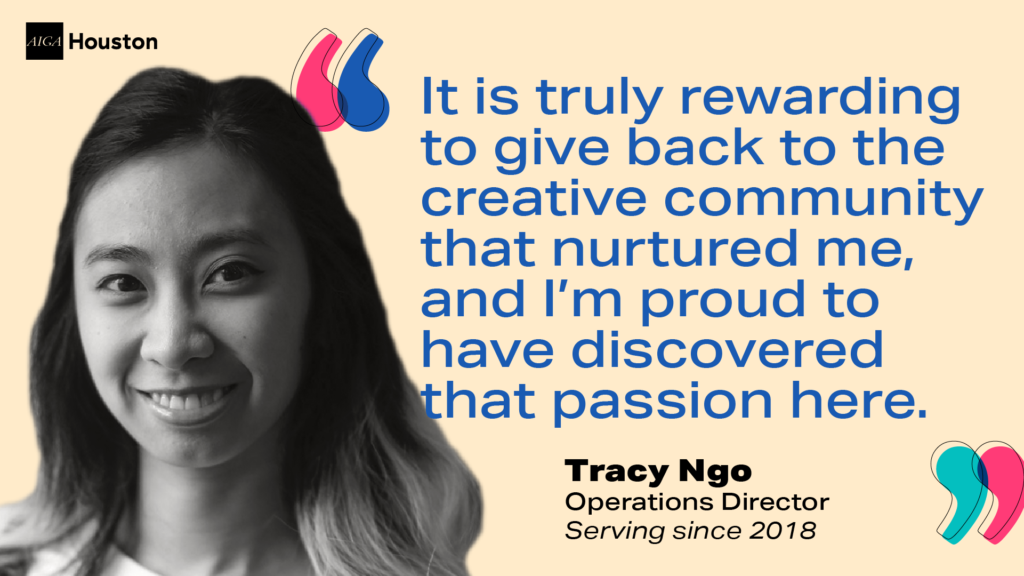 Tracy Ngo
Operations Director
Board Service: 2018 – present
"Even before I joined the board, AIGA Houston has built so many bridges for me — both personally and professionally. My board service continues to help me grow, and I've learned that volunteering is important to me. It is truly rewarding to give back to the creative community that nurtured me, and I'm proud to have discovered that passion here."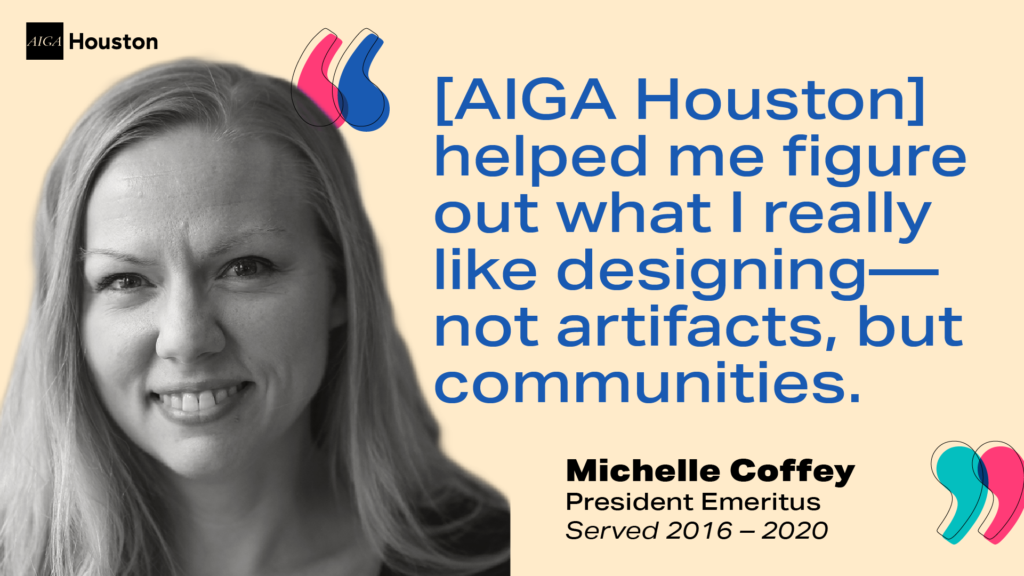 Michelle Coffey
President Emeritus
Board Service: 2016 – 2020
"Serving with the AIGAHOU board has been one of the most valuable things I've done with my time. It helped me grow as a leader, I got to work alongside enormously talented creatives with the biggest hearts, and it helped me figure out what I really like designing — not artifacts, but communities."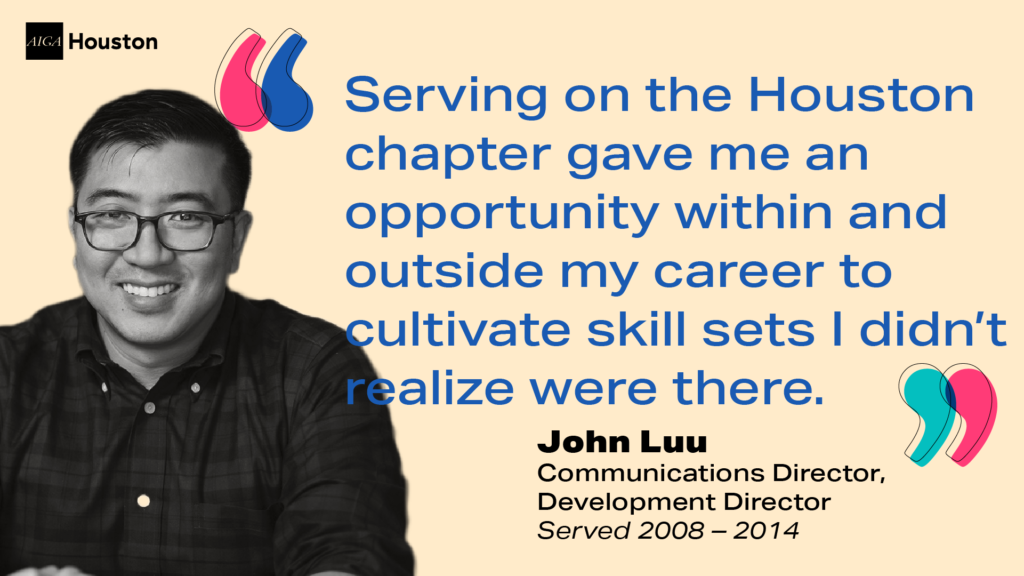 John Luu
Communications Director, Development Director
Board Service: 2008 – 2014 (Houston), 2014 – 2016 (National)
"Serving on the Houston chapter gave me an opportunity within and outside my career to cultivate skill sets I didn't realize were there. Each AIGA chapter is its own organization in many ways, and presented me with opportunities and challenges that face all organizations. It allowed me to view our profession beyond the four walls of any particular studio, or the conversations between designer and client, and see the impact of design on all areas of life and society. The AIGA community, on a local and national level, made me realize both how big and how small the design community can be… small in that it's very intimate and supportive… and big in that it's very audacious and boundless at its best."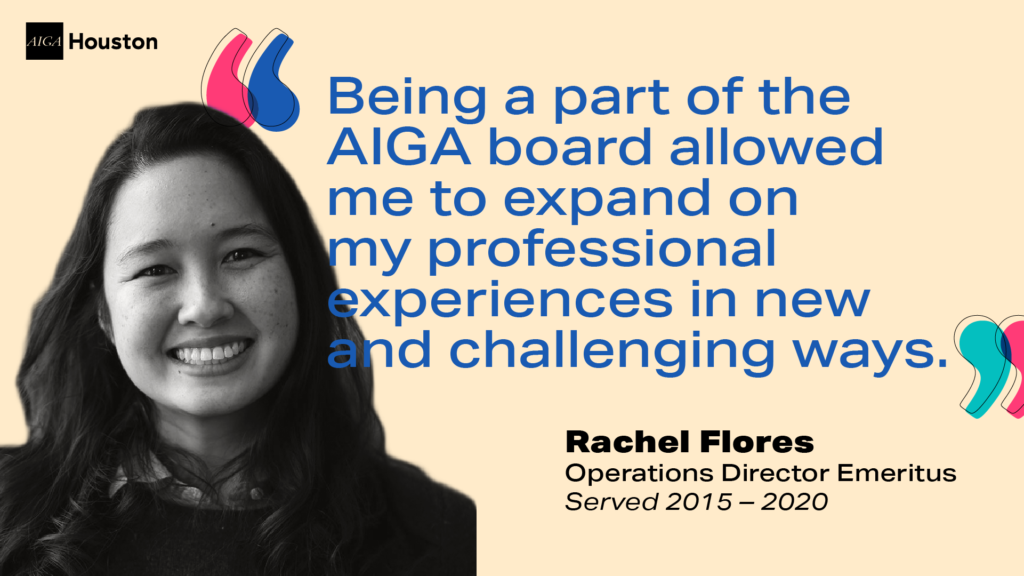 Rachel Flores
Operations Director Emeritus
Board Service: 2015 – 2020
"Being a part of the AIGA board allowed me to expand on my professional experiences in new and challenging ways. I had the opportunity to meet incredible people locally and nationally as well as give back to my community in a meaningful way. AIGA helped me build confidence, lasting friendships, and a wider set of skills and knowledge."
---
Thank you to all of our participants for sharing their AIGA Houston experiences with the Houston creative community.