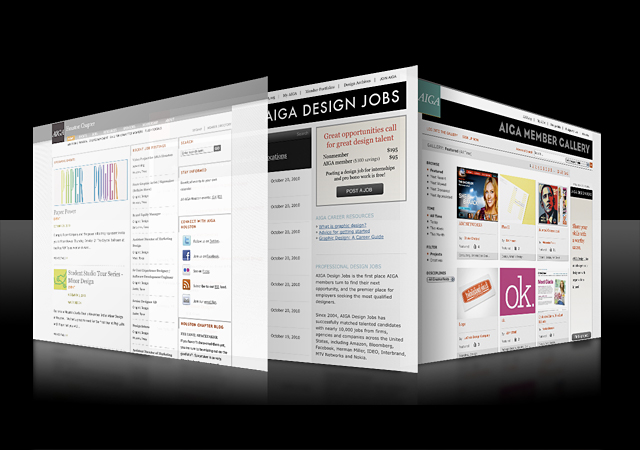 We often say that AIGA is the professional association for design but what does that mean really for designers?
For me, as a designer first and foremost, it means that AIGA is our organization that represents us as a profession. It is the only organization that serves this function on a national level, overseeing the legitimate practice of design and setting ethical guidelines.
But for designers with more immediate needs, those goals can seem remote. To them a professional association can mean access to gainful employment and resources for professional development.
With that said, I will be devoting the last quarter of 2010 to promoting our local resources for design professionals. You'll be hearing a lot about our newly integrated job board and online portfolio platform powered by Behance. If you haven't had the opportunity I invite you to check them both out here. Job postings and portfolios there get picked up on our local chapter site in addition to being getting syndicated to AIGA's national site reaching thousands of visitors. This is an invaluable resource to helping spotlight local talent and opportunities within the Houston creative community.
I want AIGA Houston to be a go-to resource for any members who might have a  professional, career or technical question or want to get in touch with the board. If you have a question or suggestion I invite you to email them to us, post it on our facebook page or DM us on twitter. We're here to help.
P.S. Also we're experimenting with a variety platforms as they pop up online in order to reach all of our members and expedite our communication efforts. We're always receptive to know how these efforts are working (or not) and also to know if there's a channel that we're overlooking.
Cheers,
John Luu, Communications Director
AIGA, Houston Chapter