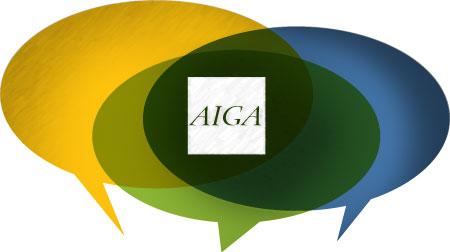 I often hear people say they join professional organizations like AIGA to connect with the community, or to "feel connected" with what's happening in design. While this is true, I want you to keep in mind that "connecting" is just a means to an end.
Connecting to our profession through AIGA will absolutely further your knowledge, give you inspiration and provide you with the ability to participate in activities that will shape your future career. While you may start your AIGA experience with needing to learn the latest Adobe software, or just wanting to see what the current trends are in interactive design, once you get involved you'll see that's it's even more valuable than this. AIGA is not an event, or a building or even an abstract idea, it's a collection of voices working to affect positive change through design.
When we pull together, our voices become a powerful force on the big issues. Yes, I can refer to the recent Gap logo "launch/un-launch/should we crowd-source or not" scenario as an example of designers being vocal. Through AIGA, though, we are over 22,000 members strong nation-wide and have an official voice through our national office, who also acts and provides a voice for us on everything from international design, to professional standards, to design in the voting process, and yes, even to the Gap logo.
We're also one of the rare organizations where students have just as much of an opportunity to speak up and be heard as our professionals do. I encourage every student to join and let us know what you'd like from your local AIGA chapter. Until October 31st, AIGA is running a Membership discount program just for students – students can join online for $50 and take advantage of the best rate ever offered. Time is ticking, need I say more?
I want you to be a member. Every designer in Houston should be an AIGA member. In fact, as the AIGA Houston Membership Director I might be legally required to say that. 🙂 My role on the AIGA Houston board, though, is really more about making sure you are able to connect with AIGA and share your voice with us.
There are a few ways we already give you a voice:
On our blog, we showcase a member, volunteer, student and studio each month. It's important to us that our community sees what great members we have, and how they can get to know or work with you on a personal level.
Our member portfolio gallery gives you a voice in Houston and beyond. As part of a national network, when you showcase your portfolio in here it is being promoted everywhere. Every member should create a portfolio – even if your expertise is writing or design strategy, the flexible format allows for case-study style content too.
Through our volunteer committees, we seek your voice in helping us to shape our event calendar, topics and conversations. When you volunteer to help with an event or as part of our Mentoring Program, you are providing the best kind of voice, the kind that helps others.
And there are some other ways we'd like to get your voice next year:
Surveys are some of the easiest ways for you to tell us what you want, or how well we're doing, and they typically only take a few minutes of your time. We're committing to sending out several surveys next year through email and adding polls to our blog so that you can speak up with as little intrusion on your work day as possible. (Be on the lookout!)
We're also looking for more ways to incorporate your voice in our events. Our AIGA YOUston event this year focused an entire evening around collecting your feedback.
Our blog needs new voices. If you're a member and want to share your expertise and contribute to our online conversations, then connect with John Luu and let him know you're ready to get involved.
And of course you can connect with the AIGA Houston board at any time as well. We look forward to hearing your voice.
Thank you,
Robin Tooms
Membership Director, AIGA Houston
and National AIGA Board Member