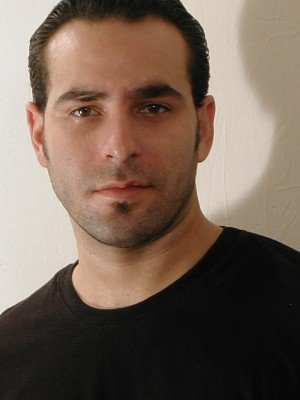 Name: Myke Toman
Place of Employment: Toman Imagery
Job Title: Photographer
(if you freelance, just tell us a little bit about the types of projects you do)
In a nutshell, I'm a commercial, event and portrait photographer with an editorial style that utilizes great
tone, color and contrast. Although I'm sometimes persuaded to take on an occasional classic portrait
assignment, I prefer and tend to take more of lifestyle approach with portrait subjects. My most recent
assignments have been for seasonal advertising but 2009 has brought me a diverse string of commercial
assignments ranging from hospitals, food and architecture including 360° image tours, which has been a
fun challenge. However, I'd have to say the most enjoyable work I've done lately has been working with
my Wife shooting fashion work for her makeup company, Empire Faces.
What do you get out of being an AIGA volunteer?
When I was on the board, it was about the growth of our chapter but as a volunteer it's about helping
out those on the board who program and execute the AIGA calendar.  I know it's a lot of work to make
every event happen so it's a privilege to say thanks by recording their effort through images that capture
the experience of an event. I also find it rewarding to create images that are used for the greater good
of our industry. You could say its art helping artists.

What inspired you to become a photographer?
We'll it wasn't for any prophetic reason that you might hear from some photographers when asked this
question, such as…"I wanted to tell the world a story through my lens"…or a version thereof. My love
for it started as an interest in science. Early on I was always fascinated by the science of light, water,
wind and sound…and how to control it for an affect. Of those four, light was the most readily available
source intrigue for me and that intrigue found its way onto my creative side after I commandeered my
Father's Canon AE‐1 on a family road trip in the early 80's. What inspired me to be a commercial
photographer was the studio still life work I created of my Mom's bric‐a‐brac after the road trip in a
make shift studio set‐up consisting of a white sheet behind the couch with hot lights…I was 11 years old.
When you aren't working, what are you doing?
Shooting photographs has been the most fun job I've ever had and it's sometimes hard to tell what's
work and what's play but when I'm not behind the camera, I'm usually telling my Wife about my next
bright idea…or hearing one of hers.  Next to good food, good music and good friends, it's my favorite
pastime.

What is your greatest accomplishment to date as a photographer?
Hmm, that's a good one…well, some of the greatest accomplishments are seemingly small ones, as
strange as that sounds. Finding creative solutions to lighting problems is always a thrill. I would have to
say being published feels good for recognition but each time I have a happy new client, it always makes
me feel truly accomplished.

What advice would you give to an aspiring photographer?
Shoot, shoot, shoot…shoot again…and then shoot some more. Learn from every trial and experience
behind the camera. Try to stay fresh by challenging yourself outside your comfort zone but NEVER
experiment on assignment. Always test and prove new ideas before your client shows up on set.
Because after all, good photographers make no mistakes…unless the client watches you make them.
Where can we find you?
http://www.facebook.com/myketoman
myke@tomanimagery.com
See my work at:
www.tomanimagery.com
www.empirefaces.com