The month of February is Black History Month, an annual celebration of the contributions and achievements of Black members of our communities. Celebrate this month's heritage with us by learning more about the lives and work of Black designers, artists, performers and photographers in Houston.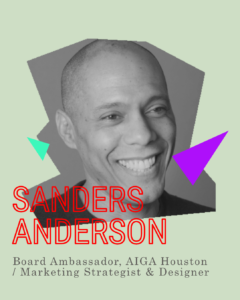 Sanders Anderson
Sanders Anderson is a strategist and designer helping leverage identity, story, and the big idea. In addition to helping lift up scrappy startups, his design contributions include Marriott Hotels, Big Brothers Big Sisters, Publix Supermarkets, and the Dalai Lama Environmental Summit. Sanders is a Pratt Institute graduate and was recently exhibited in Eskisehir, Turkey.
What are the proudest accomplishments of your career?
My branding campaign, Prompt, targeting cardiovascular patients was a catalyst for healthier outcomes. Having my recent work included in an international art and design exhibition.
How has your creative practice evolved over the past year?
People need transparency now more than ever. This makes it even more important to communicate the status of projects.
What would you like to see change about the art or design field?
I would like to see more focus on the thinking side of things vs. the making of things. We are great makers, but we often don't get enough credit for our thinking.
How can art and design be more supportive of underrepresented people, especially BIPOC creatives?
Show up. Mentor someone who is part of an underrepresented group, share your process, and be there for them along the way.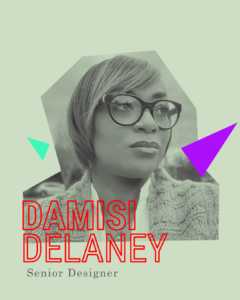 Damisi J. Delaney
A Cali girl living in a Texas world, Damisi J. Delaney grew up listening to her mom's Motown collection and pretending to be Diana Ross. She inherited the creative itch from her mom, who would make her own rugs, design clothes and create Halloween costumes from bratty children's imaginations. She went to college to become an engineer, but once the "creative" courses were completed and the Network Theory and Thermodynamics began, she quickly lost interest. Her career began with print and publications, but these days she finds herself completely enamored with digital work—yet she still has a strong respect for and infatuation with all things vintage. Who knew that all that pretending and gawking as a little would translate into a career that she loves?
How has your creative practice changed over the past year?
I love collaborating with people. COVID has made that act a bit different. Now, my world revolves around meeting apps! Collabs, crits, design review, team building, sketching, etc.—all via Zoom. I have also found that during the pandemic, I have become an early bird—for some odd reason I get inspiration between 5:30 and 6am or I find myself dedicating at least 3–4 hours a week to "continuing education"—learning new techniques within programs I'm familiar with, refining my After Effects skills, or exploring various applications. It's like there is a strong need for me to know more, such a nerd right?
What would you like to see change about the design field?
Opportunities and respect! So often the work that artists and designers go unacknowledged or minimized. I would like to see more careers developed—not just Junior Designers, Senior Designers, or Art/Creative Directors. Why can't individuals with art or design backgrounds be CEOs or presidents of corporations that aren't focused on design? I would argue that an inventive mind has a huge impact on a successful business. What creatives do may seem easy, but there are endless amounts of time dedicated to brainstorming, sketching, revisions, or just scrapping ideas.
How can design be more supportive of underrepresented people, especially BIPOC creatives?
When I started college, I did not know that communicating through art was even a thing—I thought I had to be an engineer to have a creative career. If more kids of color knew that a viable career was possible through the arts, there would be an increased amount working in the design field. We should be catching kids as early as middle school to inform them that other than being doctors, lawyers, or accountants there are careers available in the arts. So much emphasis is put on choosing careers that will allow young people of color to care for themselves and to have savings—they need to be aware this field is an option.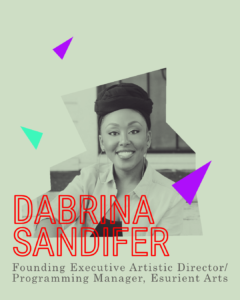 Dabrina Sandifer
A creative tour-de-force, Dabrina Sandifer is an award-winning director, actor, writer, advocate (and more) dedicated to serving underrepresented populations through the arts, education, civil rights work, social services, and crisis intervention.
As the founder of performing arts organization Esurient Arts, she has successfully coordinated professional development opportunities for youth and adult artists led by industry professionals working in Houston, New York, Los Angeles, and more. Esurient Arts also provides entertainment for private and corporate events, curates for visual art exhibitions, produces shows, and collaborates with other performing arts groups, including Vincent Victoria Presents and Mildred's Umbrella. She also serves as a producer/on-air personality for the arts radio show, "Dark Mondays." She wants to encourage all to "Live on purpose and your purpose will live on."
What are the proudest accomplishments of your career?
Some of my proudest moments of my career include successfully operating as a multi-faceted/multi-disciplinary artist, founding Esurient Arts, my transition into radio, being instrumental in the training/ development of many youth and adult artists, remaining true to what I believe is the integrity and heart of the art, and our recent collaboration with Mildred's Umbrella entitled, Femfest Houston: Black Women's Voices.
How has your creative practice changed or evolved over the past year?
Interestingly, it seems as though I've still worked rather consistently. I've also found that I've been more frequently requested for meetings, public discussions, and more on inequity in the arts. This time has also opened more space to reflect and assess some of the holes we have within the arts, as well as what artists subject or reduce other artists to. It has been interesting and thought provoking to say the least, but it has also included beautiful moments and connections, as well. I am filled with gratitude yet and equal desire for productive, thorough, and honest change.
What would you like to see change about the performing arts field?
Thank you for this question. I am proud of what artists have managed and still manage to create, as well as initiatives that have been made toward change. However, some things I'd like to see include more accountability, more opportunities for professional development that is thorough and applicable, more systems for artists to be protected even from harmful acts initiated by fellow artists, and more safe spaces in which the artist—as simply a person—is valued without having to offer something performative or appeasing.
How can the arts be more inclusive of underrepresented people, especially BIPOC creatives?
Wow! I believe we need to focus more on equity versus equality or diversity. There's a difference. Also, the removal of the unspoken yet very clear expectation of BIPOC creatives somehow being expected to teach others how to treat them as fellow human beings. More access to funding opportunities would be very useful as well. Inclusivity can be great, but sometimes…narratives, etc. need to be expressed without the pressure of being diluted, compromised, or censored to accommodate cultural or demographic norms that it simply does not fundamentally or authentically fit. For example, changing to fit a slot or seat at the table as a diversity checkpoint.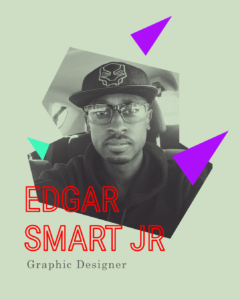 Edgar Smart Jr.
Edgar Smart Jr. was born in Belleville, Illinois to Caribbean parents. He grew up as a military brat, moving roughly every three years from country to country. Growing up internationally gave him a deep appreciation for art and culture. He earned a BA in Fine Art: Graphic Design from Norfolk State University and spent the early years of his career on the island of St. Thomas, working in the large format print industry. There, he specialized in interior/exterior signage, vehicle graphics, and vinyl installations. He moved to Houston in 2015 to seek new opportunities and continue growing as a designer.
What are the proudest accomplishments of your career?
I recently had the honor of working on a project called the Yahoo! Allyship Pledge. I was able to develop the branding for this initiative on behalf of Good Worx Social Innovation, Kindred., and Verizon Media. It's a hub of information located on yahoo.com's Black Lives Matter section that educates on what allyship is and how to put that into action. I know so many people question how they can help during these times of racial inequality towards the Black community. It's a blessing to be able to use my skills as a designer to help inform the public on such an important topic. Whenever I can serve the community through design, those are my proudest accomplishments.
How has your creative practice changed or evolved over the past year?
I don't think that any of us could have been prepared for the amount of changes that occurred over the past year. I started 2020 employed and by mid-year freelancing full time. Freelancing sounds glamorous but it's amazing the variety of design work you're willing to do when you have bills to pay! This required me to stretch my design potential and really start designing more frequently for social media assets, presentations, and proposals. A range of design work that wouldn't have come my way during my previous day job on a regular basis. It's a matter of perspective. It places you at a crossroads of what direction you want to take your career. It's a matter of making lemonade out of the lemons.
What would you like to see change about the design field?
I would love to see a greater emphasis, conversations, and resources on the business aspect of the design industry. What do I mean? Upon graduation from college as a designer we tend to have aspirations of one day landing that amazing position at an agency or some design firm. That is an amazing aspiration. However, some of our career paths may differ and we may find ourselves self employed. I remember for several years doing design work for a funeral home. I would design personalized booklets and even full vinyl wraps for caskets. Nobody mentioned that was even a thing in design class! While somewhat unorthodox, it was still a design service I was offering. I learned a lot through trial and error about job pricing, estimated taxes, invoicing, submitting proposals, collecting outstanding balances, etc. We should be improving our skills not only as designers but also as sole proprietors as well.
How can art and design be more inclusive of underrepresented people, especially BIPOC creatives?
In my opinion, acknowledging first that there is underrepresentation and being intentional about correcting it. Data from the 2019 AIGA Design Census found that Black/African Americans accounted for 3% of the working design community polled. As a Black creative, I can't begin to explain the feeling of uncertainty that comes over you when you are excited about a potential position at a company. You check all of the boxes for the criteria of the position. You proceed to the website to view the "About Us" or "Meet the Team." You scroll and scroll and it becomes apparent to you that there isn't anyone on the team that looks like you. You wonder if you would be welcomed into the "workplace culture." Or if there is a Black employee would there be room enough for two? It may seem far fetched to some, but these are some of the thoughts that Black creatives have. It's trendy to say that as a design community we are inclusive. Yet, are we challenging ourselves to make sure that our teams aren't just homogeneous spaces? As a graduate of an HBCU (Historically Black College or University) I've seen firsthand the amount of talented Black creatives that graduate from these institutions year after year. Perhaps more attention can be paid to graduates of these institutions. We've witnessed several failed advertising campaigns over the years that were deemed racially insensitive or tone deaf. Perhaps if there had been a seat at the table for a BlPOC creative team member their input might have saved the drama.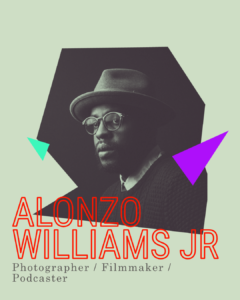 Alonzo Williams Jr.
Alonzo Williams Jr. has devoted most of his career exploring the diversity of the human race through a project entitled "Everyday Strangers" which began from a 13-month-long journey of random encounters with perfect strangers. This marked the beginning of his career as an exhibiting photographer. His encounters with the first 50 Strangers during a trip to NYC acted as a catalyst for this project, which ultimately took on the mission of moving beyond the surface image of an individual that sometimes places them in stereotypical categories. The power of this project is that it uses the collaboration of portrait photography and unscripted conversation to penetrate the misconceptions often impressed upon audiences by social media, television, and the entertainment industry. Through the project, he has learned three languages (Spanish, Portuguese, Italian) and traveled to six countries around the world.
What are the proudest accomplishments of your career?
My proudest accomplishments would be from my solo photography exhibitions at the Community Artists Collective and a collaboration between Houston Museum of African American Culture and FotoFest.
How has your creative practice changed or evolved over the past year?
My creative process has evolved from me waiting for that perfect shot opportunity to me actually creating the opportunity myself. In my beginning stages of being a street photographer. I would capture people in their natural movements which meant I had to standby a lot or pay close attention to my surroundings. But now, I walk up to random people and pose them myself. A case of an introvert crossing over to extrovert.
What would you like to see change about the art or design field?
That's a difficult question for me to answer because I've never thought about ways to change art and design. I've always seen it as something that mirrors the time we're in.
How can design be more supportive of underrepresented people, especially BIPOC creatives?
You can never go wrong with strengthening awareness.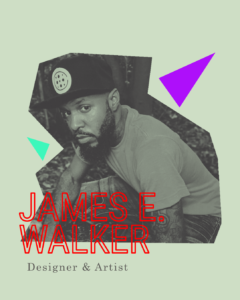 James E. Walker
James E. Walker is a multidisciplinary designer, artist, printmaker, and hip hop artist who operates a one-man band creative arts studio based in Houston, Texas. His specialties include brand design, logos, album art, illustration and apparel design. James is currently touring throughout the U.S. while working on his latest project, Designer Rap Tour.
What are the proudest accomplishments of your career?
I try not to get stuck in the past, but a few accomplishments that come to mind would be having one of my logos published in the latest LogoLounge 12 Book. This meant a lot to me because I studied many of those books faithfully while in design school. In late 2019, I was commissioned by Houston Arts Alliance and Caydon USA to have two art pieces featured inside of Midtown's Drewery Place luxury apartment high rise. And lastly, my proudest moment was taking my son to the museum to witness a portrait of himself that was selected by the Museum of Fine Arts Houston's Exhibition for African American Artists.
How has your creative practice changed over the past year?
My practice has evolved from working mainly as a digital artist and designer, to getting hands-on with other mediums such as screen printing, chalk art, and mixed media paintings, and also incorporating these crafts with music.
What would you like to see change about the art or design field?
I would like to see more designers take an artistic approach to their design works, and for artists to embrace more design aesthetics within their artwork. I feel that the two go hand-in-hand in many cases, especially for personal projects.
How can design be more supportive/inclusive of underrepresented people, especially BIPOC creatives?
I think organizations like AIGA should continue to highlight underrepresented designers on a monthly basis and sponsor programs that bring more attention to their work.
---
Thank you to all of our participants for sharing their experiences with the AIGA Houston community.