Connect with us at our monthly meetup.
Are you eager to unleash your creative spirit and fully immerse yourself in the wonderful world of crafting? AIGA Houston's Crafts with Creatives is back at TXRX Labs! Get ready for an unforgettable evening filled with endless opportunities to express your creativity, connect with Houston Creatives, and indulge in the joys of crafting!
Join Us
Whether you're a seasoned veteran in the creative community or a recent graduate, this is the palace to connect with Houston designers, developers, photographers, makers, and more.
Use hashtag #aigahouston
Design: AIGA HOU
Activity
This Month we will be focusing on Origami: The Art of Paper Transformation 🎨✨. Origami, the ancient Japanese art of paper folding, is more than just crafting; it's a mesmerizing journey of creativity and precision. With a single sheet of paper and a series of intricate folds, origami has the power to transform simplicity into complexity, a blank canvas into a work of art, and a moment of calm into an engaging and rewarding experience.
This month activity will be led by Our very own Communications Director, Sabrina Smith of The Witch Designs, which is a witchy and nature-inspired shop that aims to create wearable and practical art for the everyday human. Their jewelry, stickers, and petite home decor goods are made by hand with love and intention in their witches' hut (home studio).
Also back by popular demand, Dani Newman of Big Dipper Creative will be leading a game of Exquisite Corpse. Not Familiar? Exquisite Corpse is not as eerie as its name suggests; it's an imaginative activity that originated in the early 20th century among Surrealist artists. The game involves a group of participants creating a collective artwork, typically a drawing or a piece of writing. However, there's a catch: each contributor only sees a small part of what the previous person has added, leading to a delightfully unpredictable outcome.
About TXRX Labs
TXRX Labs is a 501(c)3 nonprofit innovation, education, and collaboration hub serving the creative community of Houston, Texas. Classes are offered in a variety of topics including woodworking, welding, machining, programming, electronics, drafting & design, textile arts, jewelry, ceramics, and STEAM education for young makers. The 50,000 square foot facility provides an open environment where tools, knowledge, and skills are shared for hobbyists, inventors, artists, entrepreneurs, students, and anyone interested in becoming a maker.
Directions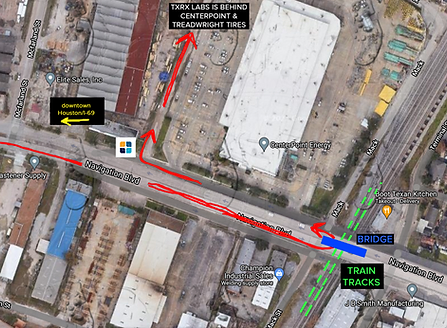 If Driving East on Navigation Blvd (From Downtown/I-69)
Drive down Navigation Blvd toward Mack St.
Keep right & DO NOT go over the bridge.
Make a U-turn at Mack St. just before the train tracks.
Drive past Centerpoint Energy until you see two driveways.
Take the driveway with the orange and blue sign that says EEMH.
Drive through the gate and keep going until you see our parking lot.
Entrance is the door on the left side of the loading dock.
If Driving West on Navigation Blvd (Toward Downtown)
Drive toward Mack St.
After the traffic light, keep right, and do not go over the bridge (unless there is a train in which case you will go over the bridge and make a U-turn before the train).
Drive past Centerpoint Energy until you see two driveways.
Take the driveway with the orange and blue sign that says EEMH. It is the only driveway with a bike path.
Drive through the gate and keep going until you see our parking lot.
Entrance is the door on the left side of the loading dock.
About
AIGA Houston
As the profession's oldest and largest professional organization for design, AIGA seeks to advance design as a professional craft, strategic advantage and vital cultural force. Locally, the Houston chapter focuses on building community, strengthening skills and advocating for design. We are a 100% volunteer-powered nonprofit organization.
Accessibility
We are committed to programming that is as inclusive as possible. If you require special assistance, accommodations or wheelchair seating, please email the Officers at least 7 business days before the scheduled event. 
Code of Conduct
By registering and or attending any of our events, you agree to abide by AIGA Houston's Code of Conduct.
Recording Disclosure: Your registration and/or presence constitutes permission to use photos, audio and video recording taken in the public spaces of our event for promotional and educational purposes in connection with AIGA Houston activities, corresponding publications and AIGA Houston managed websites. If you would prefer to not be included in photos or videos, please contact a board member or event volunteer to discuss further options.
COVID-19 Disclaimer: We understand that the Coronavirus pandemic is ongoing and constantly evolving. We can't wait to see you in-person, but the health of our community is of the utmost importance. Please follow local recommendations regarding vaccinations, masks and social distancing while at AIGA events to minimize the spread of COVID-19.