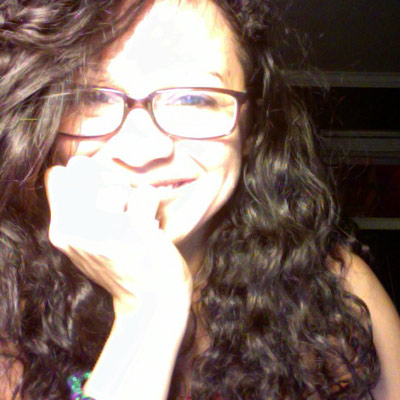 Name: Jessica Lynn Rios-Almanza
School: University of Houston
Year: Class of 2010
What made you want to study design?
As a child, someone told me that "sometimes, paper is the only thing that will listen". Creating has been a method of breathing for me since. I chose to study graphic design because it's degree plan described what I did to survive. I had been studying and designing for years and had not known it. As I studied the fundamentals of design principles, I succumbed to the romance: the more I learned, the more in tune I felt with myself and the world around me. Design grew me, and naturally, I grow design. It's an endless love affair…
When you aren't at school, what are you doing?
Hanging out with my little boy, drawing, singing or thinking up ideas on how to save the world over last nights dirty dishes.
How long have you been an AIGA Houston member & what do you get out of being an AIGA member?
Well, I have to say, I do so enjoy the tactility of that Helvetica ridden card. My first one was silver with smaller type and something was slanted, italic perhaps? Knowing that I am connected to a million and two like-minded creatives is absolutely relaxing. I frequently check out Debbie's Design Matters on you tube and am grateful that the AIGA site has an extensive collection of archives and engaging articles/conversations for inspiration. After the Memphis Make/Think conference, what I get most from being an AIGA member is an overall sense of belonging, family, home. That means a lot to a girl like me.
What's your favorite typeface?
Helvetica…and yes, before the movie came out. The pleasing nuero connections that light up in my brain when I look at the old school letter forms just don't go off in quite the same way for another typeface…such assertion in style is an admirable quality, no matter what Lawrence Weiner says. Helvetica Arabic is my latest crush. I don't know what the heck it says, I just want to look at it. They are just good looking forms. Eye candy. Enough said.
How would you sum yourself up as a designer in 5 words?
I am particular, an artist, a concept queen, a writer. I am possibility.
What would be your dream job or accomplishment if you could do or be anything?
I would love to be on the Sesame Street team. Coloring personified letter forms that rock out to music alongside the honesty of puppets sounds awesome. If somehow I could manage a small design firm that teamed up with sesame street to produce illustrative design and/or write a design column, had time to chaperon my son's field trip once or twice a year and still manage to have good hair, I'd be one happy camper.
Where can we find you?
strolling the streets of the Heights with my ten year old
on campus in the senior studio with my design mates and advisers
daydreaming in a grocery store
trying to touch things that I shouldn't
www.uh.edu/uccs/
or
jayelledesignlab@gmail.com