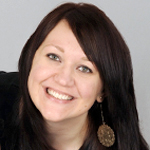 July is a momentous month here at AIGA Houston as it starts our new programming year. Additionally, this year it brings to us a new President for AIGA Houston, April Guzik. April doesn't need much introduction. After all, you've seen her smiling face at AIGA events over the past year as our Member Activities Chair.
April's enthusiasm for all things design (and thankfully for us, for AIGA as well) is contagious. April will be leading a dedicated group of Board Members who are responsible for helping you achieve the best possible AIGA experience. It's our mission to help you get inspired, grow your career and connect with other interesting.
I'm excited as the coming months will unveil some of the new ideas April has for the Houston Chapter, and I hope you will be as well. You might also want to re-read this post from the AIGA website that talks about about what we are working on nationally too.
As the recent "AIGA YOUston" event showed, we're always open to hearing from you. So, what would you like to see in the coming year from us?