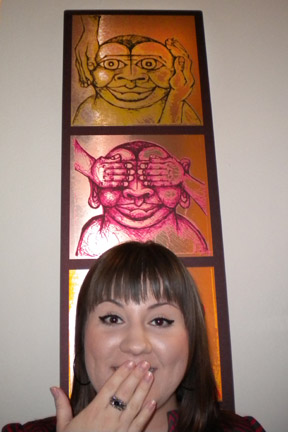 Name: Amy Guillory
Place of Employment: Harris County Department of Education
Job Title: Graphic Arts Technician
How long have you been an AIGA member and what do you get out of being a member?
I've been attending AIGA events for years through a student membership, and officially became a professional member in March. To sum it up in one word on what I get out of my membership … INSPIRATION! I learn so much from the various presentations, and its amazing to meet Houston-wide mentors and competition. As well as the great feeling I walk away with when I can give advice to upcoming designers. I feed off inspiration, and its what keeps my creative flow going.
What inspired you to become a designer?
Having quite a few artists in my family, I was introduced to visual arts a young age. I spent a lot of my time drawing and collecting cool magazine tear outs, and when nearing high school completion, I was looking for options to continue my passion for art and design. I felt graphic design was the perfect fit for me, and I still strongly believe that today.
Where's one place in Houston you didn't know about until recently?
Last year, I was introduced to Artcrawl for the first time. The personal experience of being in the artist's studio, and seeing them in their element was amazing. Walking around Houston from one art space to the next, was the perfect way to familiarize myself with the lesser known areas of Houston, as well as meeting many eclectic artists and designers.
What local designers are your mentors or that you are following?
I don't have one person in particular. I am blessed for all my talented artist friends and colleagues that I am able to surround myself with. Whether it be web design, video, photography, graphic design, or even fine art … we all inspire each other on a daily basis, keep each other in the loop, and are open to one another's feedback and critiques for growth.
What other creative/art events do you attend?
AIGA and HOW design conferences, Art Directors Club of Houston, American Marketing Association, Houston Advertising Federation, Texas School Public Relations Association, MFAH Mixed Media events, Bayou City Art Festival, Artcrawl, Addy Awards, Business Marketing Association Lantern Awards, Telly's.
When you aren't working, what are you doing?
I really enjoy cooking, road trips, live music, happy hours, and spending time with friends and family.
What is your greatest accomplishment to date as a design professional?
One of my most memorable projects that I call "my baby" would be Clean & Green, Port of Houston Program. This is a Buffalo Bayou Clean-up and Restoration Initiative program that involved logo design and identity package, invites and programs, production ads, banners, promotional items, commercials, and the most exciting (for me) being a vehicle wrap. It was really fun to see this project completely through from start to finish.
Where can we find you?
Facebook or email: livin4design@yahoo.com
My official Web site is under construction, but I have a few samples for review at www.livin4design.webs.com