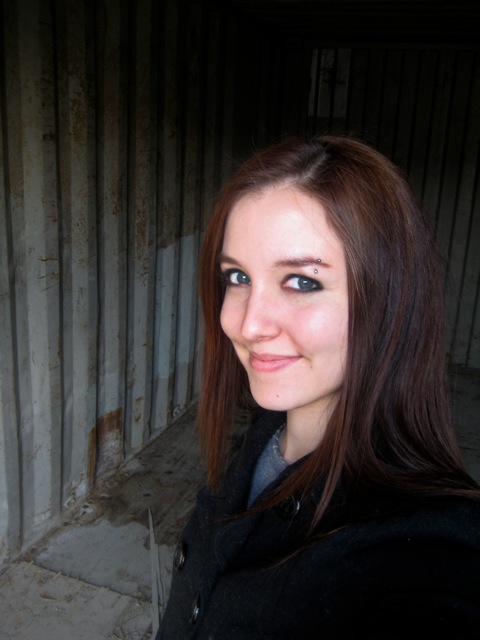 Name: Leah Macey
School: University of Houston
Degree Plan & Graduating Year: BFA in Graphic Communications 2010
What made you want to study design?
Ever since I was a kid, I was constantly drawing and painting, so I've always had an affinity for art. As I grew older, I started noticing all the things around me that appealed to me visually that were not only on canvases in galleries, such as advertisements, logos, and packaging. I don't think I even understood all the things that graphic designers really did until I was a freshman in college, but I've been obsessed ever since I figured it out!
When you aren't at school, what are you doing?
When I'm not at school, I'm usually at work! When I'm not at work, I'm usually on my computer, surfing the Internet, hanging out with my friends, going to music shows, playing ultimate frisbee, watching netflix, or playing video games.
How long have you been an AIGA member and what do you get out of being a member?
This is my second year as an AIGA member, and I really enjoy being a part of a community where other people love design as much as I do. I appreciate all of the events that they put together for us, and it's nice getting to socialize and meet with other designers and learn new things at the same time. I also went to the Make/Think conference in Memphis last year with my class, and that was mind-blowingly awesome, full of great information, and I walked away wins tons of "free" loot.
What are your top 5 design websites you like to visit?
www.typographyserved.com
www.designyoutrust.com
www.notcot.org
www.thedieline.com
www.grainedit.com
I am also a fan of stumbling onto random design related web pages.
How would you sum yourself up as a designer in 5 words?
I am observative, detailed, malleable, thoughtful, and careful.
What is your dream job?
I love music, so I think my dream job would be designing posters, cds, and t-shirts for bands that I like. I have a couple of friends that do that sort of thing, so I'm pretty jealous. However, I think the job that I have now is pretty sweet too. I am the new graphic designer at a small firm called Good Project. I love it there, because we have such a diverse clientele, and design for all kinds of businesses from restaurants to real estate companies to schools to law firms and everything in between.
What did you do this past summer?
In July, I went to Hawaii for 12 days to visit my best friend who goes to college there. I have to say, it was the best vacation I've ever had! I went hiking in the mountains, hung out on many beautiful beaches, went snorkeling, went camping, and saw lots of waterfalls and rainbows. It was pretty magical.
Where can we find you?
My website is www.anicehello.com
You can also find me on Facebook. I'm on that thing all the time.