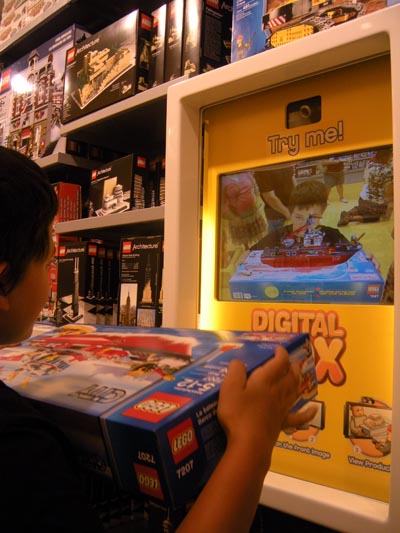 I bring my camera along with me just about everywhere these days. On a recent trip to the Galleria, I discovered this fascinating jewel. Designers, I share with you the magical lego kiosk.
Remember the old days when you picked up a box and looked at the back to discover a toy that looked twenty times cooler than it actually was when you opened it? I recall the disappointment I felt at the Barbie that looked like she could have the time of her life, only to discover she was bound by her waist and could not bend her knees or elbows. Kids these days, they have no idea how cool it is that their senses are able to develop with 3-D interactivity via a toy package.
So, of course, I shot too many pictures and "tried on" several boxes. I stood there in awe of the concept. You build the item, take a picture of it on the box and "go to and play" the image when you "roll over" the kid that shows you the box. Is it just me or are you super inspired at the possibilities this sort of kiosk invites. Could we "try on" hair products at Visible Changes? Perhaps hold up a hamburger helper and see if it still looks appetizing when cooked? I'd like to propose a technology that tries on color palettes. Instantly. Lets hold up a book cover and say, "this would work better with earth tones" and see what happens just for kicks. A commodity for creative professional/client meetings.
Additionally, the environmental graphics here are well worth the trip; a wall of colorful little touchables, paper toys crafted to stand six feet tall, branded salt and pepper shakers!?!? Ahhh, Lego. Inspiration on a platter.