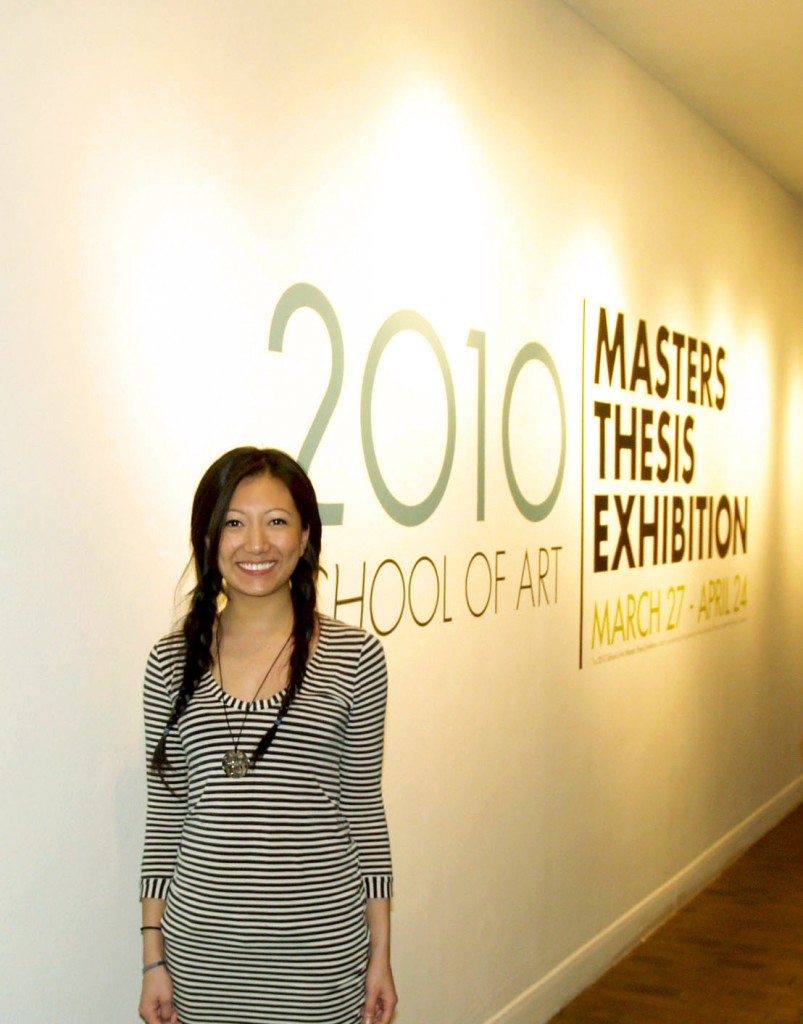 Name: Jessica Tsao
School: University of Houston, Graphic Communications
Year: 2011.

What made you want to study design?
I've always been interested in design since I was young. My dad is an architect and my mom teaches Chinese calligraphy, so they were the ones who kind of pushed me into the field. I started out in interior design, then when the program closed down in the School of Art, I was devastated. I initially never considered graphic design, but decided to give it a shot. It was definitely a blessing in disguise because I can't imagine doing anything else and I really couldn't be happier in this field.
What was the best and worst experience of the Block program?
Oh man, there are so many good experiences… Pulling all nighters in the studio may sound like a horrible time, but I know that looking back I'm going to see that it was one of my best experiences. My entire class interacts so well together, so even though we're stressed out and scrambling to get to that deadline, someone will bust out with a joke, turn on some music and all of a sudden it's a design party. Being chosen to design for the Masters Thesis Exhibition for the Blaffer Gallery was also one of my best experiences. Working with the editors and the gallery staff members made me feel like a real grown up designer and gave me a chance to see how everything works from the initial concept to the final publication. The worst experiences in Block are petty in comparison: being late due to lack of parking, missing laptops and Monday and Wednesday nights.

When you aren't at school, what are you doing?
I'm complaining about work and school, playing darts, shooting pool, making dinner while listening to music, forcing movies and documentaries on friends and brainstorming graphic design ideas.
How long have you been an AIGA Houston member & what do you get out of being an AIGA member?
I have been a member for many, many years; since the fall of 2009. I really should have joined earlier, but I liked paying premium prices to get into all the events. Just kidding. Being a member is awesome because you get to attend a variety of great lectures and network with design professionals for a fraction of the price! AIGA Houston really dedicates themselves to finding acclaimed designers to come out and speak to us candidly about their work in the graphic design field. I'm inspired every time I leave. The mixers are great too and they are always at the perfect venues.
Now that you completed the Block program, what is on your to do list as your next big accomplishment?
I will be a senior after this summer, and only after another year can officially say that I've completed Block. My current to-do list this summer is to shamelessly market myself in the hopes of catching an internship somewhere where I can work with talented professionals who can help me build my graphic design skills.
How would you sum yourself up as a designer in 5 words?
Sincere, versatile, dedicated, thesaurused those.
What would be your dream job or if you've already found it, where will be your new home?
My dream job would be to sit in an office with a huge window and be told to design music packaging, show posters, movie posters, and all aspects of book design; all with no limitations.

Where can we find you?
www.jessicamtsao.blogspot.com, facebook.com/jessicamtsao