In another Member Mix/DesignCraft crossover, we asked Gene Morgan of Settlement Goods & Design to put together a playlist of some of his favorite jams. Nothing could have prepared us for what he sent us! Keep reading and check it out.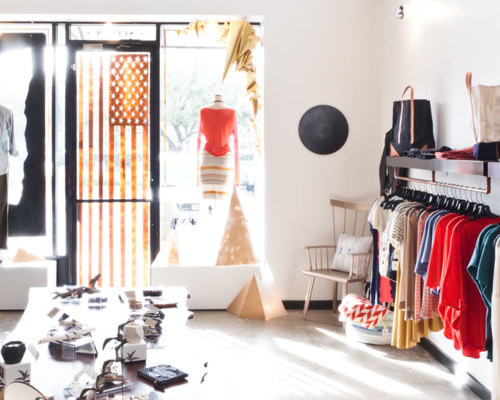 Stop by the Settlement booth at DesignCraft, December 7th at Market Square Park and pick up some of their expertly curated American-made goods. For a complete list of vendors, visit houston.aiga.org/designcraft !
Gene put together a "Lovers Playlist" full of the kind of jams that are perfect for cuddling up on a cold winter night—or something like that—which I'll go ahead and call NSFW. Read his description below:
Can U Get Away by 2Pac – 2Pac asks a woman to leave her abusive lover in this song. The woman is hesitant, which is silly because 2Pac is obviously way better than some domestic abuse case.
Bustin' Loose by Chuck Brown and the Soul Searchers – Heard this in the parking lot of Reliant Stadium before an important football game. I don't think any other song has ever gotten me as pumped to drink $8 Bud Light and eat mini pizza.
SpottieOttieDopaliscious by OutKast – I met my wife at a sleazy dance club ten years ago this week. To paraphrase Big Boi, "One moment you frequent the booty clubs, and the next ten years you're with somebody's daughter raising your own youngins'. That's a beautiful thing."
Get It On Tonight by Montell Jordan – The sex area of your brain actually goes into full-on sex mode when you play this song. I only listen to "Get It On Tonight" when I'm alone or with my wife, because I feel awkward around friends and family when Montell gets sexy.
Blame It by Jamie Foxx (feat. T-Pain) – Nobody loves this song like I do, and I don't really care. Jamie Foxx is both creepy and robotic in this ode to poor decision making.
Female$ Welcome by Trinidad James – This song is ultimately a love song about rejection. Trinidad is forced to move on to another, less emotionally important woman due to his former lover no longer "feeling" him.
Sun Goddess by Earth, Wind & Fire (featuring Ramsey Lewis) – Earth, Wind & Fire is magical and pure and I want to encourage you to make them part of your life. Some lyrics from this song include "Hey, I want a solo," and "Bwayyyoooo."
On the Line by Blood Orange – In this track, lovers are lobbing questions about relationships with other lovers, and people are sad. The end gets more optimistic, and for some reason I feel like the lovers are going to make it work, possibly through sex, but maybe I'm just projecting.
Sexual Eruption by Snoop Dogg – Snoop takes this song "all the way" and describes the full "Sexual Eruption" process. I see this song as a potential replacement for the "sex talk" I'm going to have to have with my children in seven or eight years.
You're Making Me High by Toni Braxton – This is another song about sex, because songs about sex are what people should listen to. If you've made it this far on the playlist, I've already proven my point. Toni Braxton is very special to me. Also, my mom introduced me to this song many years ago, which is gross.
Vivrant Thing by Q-Tip – The beat to this song gets me every time. Q-Tip could be rapping about doing his taxes and this song would still make me want to dance like a hot boy on the hood of my car.
One Minute Man by Missy Elliott (feat. Ludacris) – Nobody wants a lover who can't last. Missy Elliott prefers someone like Ludacris who, little known fact, has been continuously having sex for the past fifteen years.
I'd Die Without You by P.M. Dawn – I always picture myself dying during this song, since it repeats the word "die" like thirty times. If God doesn't play me this song when I die, I'm going to be so pissed.
– Gene Morgan, Owner of Settlement Goods & Design
What's this Member Mix thing all about? Every other Friday we'll bring you musical inspiration from Houston's top creatives, in a series of designer-generated Spotify playlists. If you don't already have Spotify, you can sign up for a free account here.
Be sure to follow AIGA Houston on Spotify for new playlists every other Friday!