The music doesn't stop! For this week's Member Mix, Heather Cobb, an independent graphic designer (who most recently picked up a cross-stitching hobby), compiled a serious Southern playlist. It's got everything from classic rhythm-and-blues by the Animals and Aretha Franklin to newer tunes by Dan Auerbach and Black Rebel Motorcycle Club. Check it out below.
Some of Heather's recent cross-stitchery: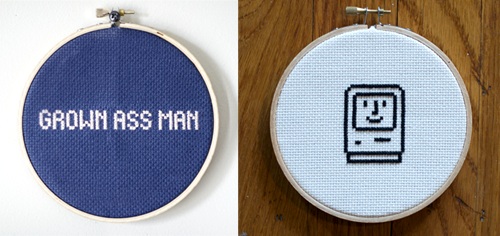 "Turns out I have grown quite fond of all things Southern. I recently received my first issue of Garden and Gun magazine, which filled me with a bunch of sentimental thoughts and spiraled into realizing I've been in Houston for quite longer than I had anticipated. I started to pull a Southern-esque music mix together, which morphed into R&B, and alt-country, and the like. This year marks 20 years in the South for my Yankee self. Okay, truth is I still hate the mosquitoes and muggy summers, but love the music I've discovered along the way and the cold drinks."
Give it a listen:
What's this Member Mix thing all about? Every other Friday we'll bring you musical inspiration from Houston's top creatives, in a series of designer-generated Spotify playlists. If you don't already have Spotify, you can sign up for a free account here.
Be sure to follow AIGA Houston on Spotify for new playlists every other Friday! Check back in two weeks for another Member Mix!