We're all about Wes Anderson's latest film, Grand Budapest Hotel. So is Kirsten Ufer, Houston Zoo's Creative Director. When we asked Kirsten to create a Member Mix for us, she hit us with an Andersonian mix inspired by his oeuvre, from Rushmore to Grand Budapest Hotel and everything in between. Listen to it below.
Some of Kirsten's work at the Houston Zoo: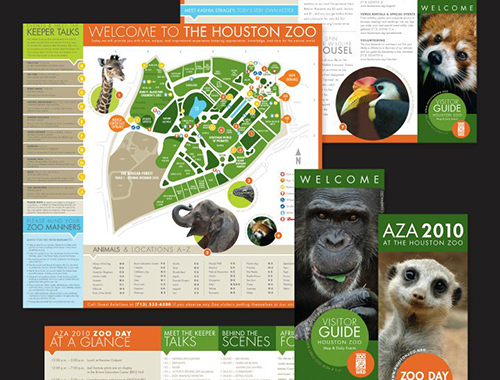 Here's what Kirsten had to say about her playlist:
Last week a friend and I scrambled downtown to the Sundance Theater to catch the first glimpse of the new Wes Anderson film, The Grand Budapest Hotel. I had viewed the preview months ago, and literally could not wait to see his new movie! The director who brought us such quirky cinematic delights as Rushmore, The Royal Tenenbaums, The Darjeeling Limited, And Moonrise Kingdom (to name a few) certainly did not disappoint in this one, either.
I think what speaks to me most about Wes Anderson's films is the layering that takes place – the sights, the sounds, the viewpoint – all so rich in and of themselves. And the inspiration behind all of these elements makes the over all experience such a delight to consume. I love that he utilizes the things that surrounded him in every day life growing up – the settings, the props, the music of a time gone by, brought into the realm of a new fantasy world that is neither past or present. I love the use of the slightly skewed color pallets, like a browned and faded magazine ad from the 60s. I love that the same core cast of actors appears in each movie – like a group of old neighborhood pals reappearing for their next adventure together. I love the fact that Mark Mothersbaugh (lead singer of the band DEVO) composed the scores to many of his films (who knew??). And I certainly love the fact that he commissioned designer and letterer extraordinaire, Jessica Hische, to create the title face for Moonrise Kingdom (three cheers from all the designers!).
I think all of this inspires me because I want my projects to have the same layered richness. I'd like to pull from my past, my present, surroundings, sights and sounds to create something new for people to experience. So, my music mix is a compilation of familiar pieces from Anderson's films – may it inspire you as his work inspires me! Enjoy!
Check it:
What's this Member Mix thing all about? Every other Friday we'll bring you musical inspiration from Houston's top creatives, in a series of designer-generated Spotify playlists. If you don't already have Spotify, you can sign up for a free account here.
Be sure to follow AIGA Houston on Spotify for new playlists every other Friday! Check back in two weeks for another Member Mix!