Imagine yourself as a 26-year-old, soft-spoken, fresh out of college designer, who has to present a concept to a panel of judges and a room full of 2000+ fellow designers. That's exactly what happened to me and six other young designers this past October.
AIGA held its annual three-day conference in Las Vegas this past October. It became a platform for influential designers to share their experiences and knowledge. The same stage that featured accomplished designers like Debbie Millman, Paula Scher, John Maeda, and even rapper Chuck D, showcased the competition known as Command X. This competition, often dubbed as the Hunger Games of design, pits seven emerging designers from across the country to compete against each other in a series of challenges.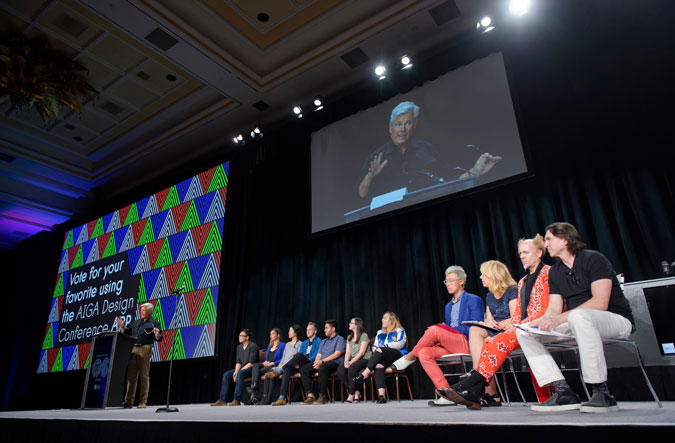 The premise of the competition is to complete an assignment within 24 hours and present the concept to the conference audience. After each designer is done with their individual presentation, the panel of judges proceeds to critique the work. They were, Bonnie Siegler, Dana Arnett, Stanley Hainsworth, along with a guest judge each day. Once all designers are done presenting, the audience then votes on their favorite contestant. The two contestants with the least amount of votes are eliminated. Those who are left, are then given a new challenge to complete and present again within the next 24 hours.
Application Process
There was a lot of hesitation when I thought about applying to Command X. I was among the audience in the previous iteration of Command X, I knew there would be a lot of competition and pressure. I left the conference that year feeling inspired by all the contestants and their willingness to compete in front of a national audience. When it came close to the deadline for the next competition, I decided to complete the application which consisted of a five-page PDF with samples of my work and a written statement. Clicking the send button was as hard as filling out the application. There was a lot of hesitation as to whether or not I wanted to put myself in that situation. Ultimately I submitted the application, hoping for the best.
The call came in a few weeks later, I made the cut. It was Bonnie Siegler's voice on the other side, I was in shock. A sense of terror overcame my body quickly and I started to wonder If it was too late to back out. Bonnie was still on the line, I think hoping for a more vivid response. It was a truly surreal moment, I eventually pulled myself together just enough to respond to Bonnie and thanked her for the opportunity.
Meet the contestants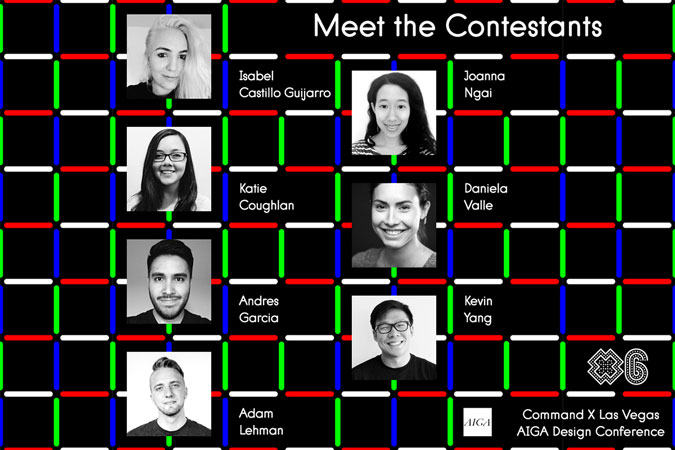 I was set to be on stage along six other amazing designers. Most of my preparation leading up to the competition was mental preparation and sought out lots advice from friends and fellow designers. A lot of people can attest that presenting was never my strong suit. Getting on stage in front of that many people would be the most challenging part of the competition for me. The idea of presenting genuinely terrified me but putting myself in that situation definitely helped me improve my fear of public speaking.
First challenge, Gamblers Anonymous Logo
It was a week away from the conference and we received the brief for the first challenge. Redesign the logo for Gamblers Anonymous. Most Command X challenges revolve around the city the conference is held in, and this year was no exception. The process began with researching as much as I could from the organization. I gravitated towards the organization's philosophy and take on spirituality, and sense of unity. The initial approach started with the typographic treatment of the "g" and the "a". I wanted it to reference back to the existing logo and incorporated the use of lines to make up the letters to suggest a sense of unity. The logo carries the motif of the celebratory tokens, which are given to members to mark their progress in recovery. The presentation of the logo was enough to get me through to the second day, and on to the next challenge.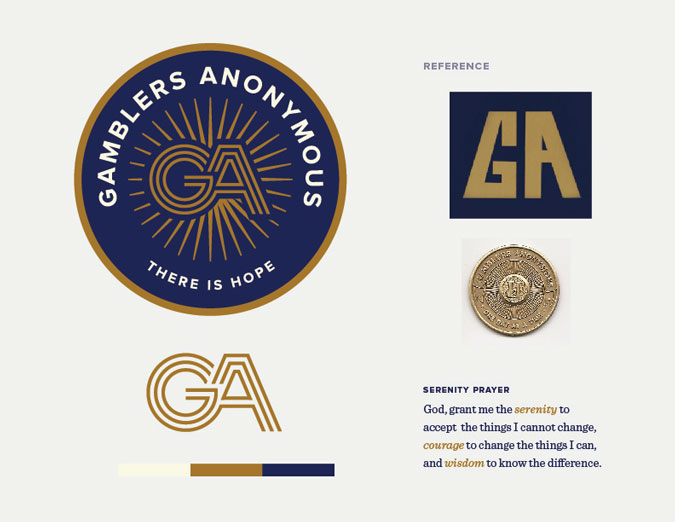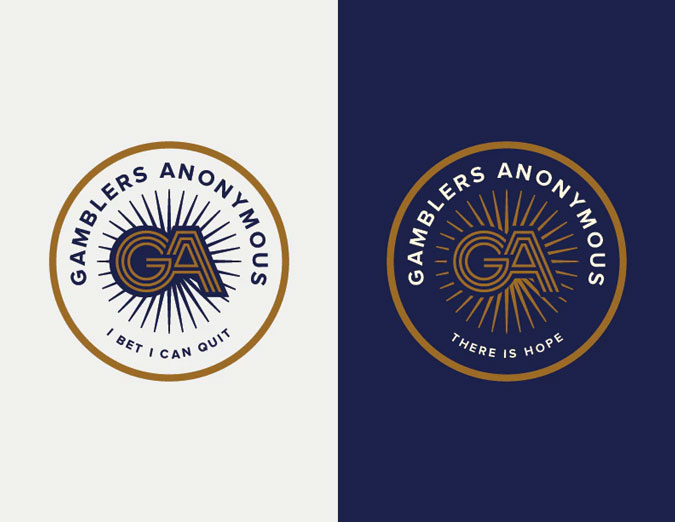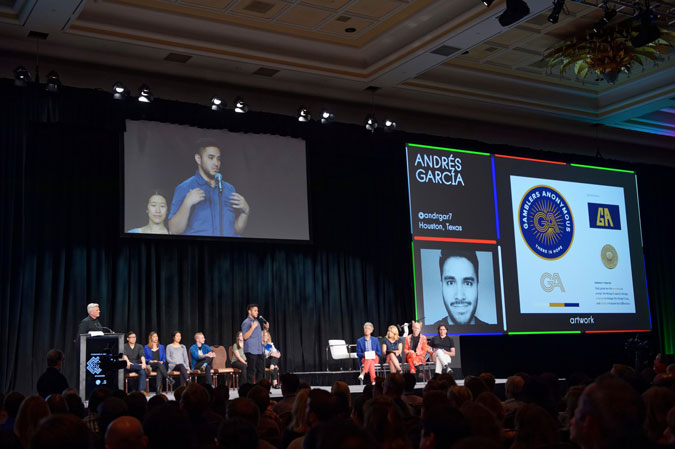 Zappos Shipping Box
Zappos is an online store headquartered in Las Vegas that started out selling shoes. For the second challenge, we were to rethink the shipping box used to for their products. The box design needed to be scalable and adaptable to different sizes and orientations. We were also given the option to reinvent the box structure entirely. My concept was to design a recycle conscious campaign on the box itself. The idea came from conversations with a few people at the Command X work station, especially about what happens to the boxes once we receive the products. Typically, we just throw them out. I focused on gathering data about recycling and waste and began to experiment. I took an infographic approach, but the Zappos brand was quirky already, so I created a series of icons and treated the infographic data in a way that would speak to the company's quirkiness. The final result was a colorful pattern overlaid on the traditional white box.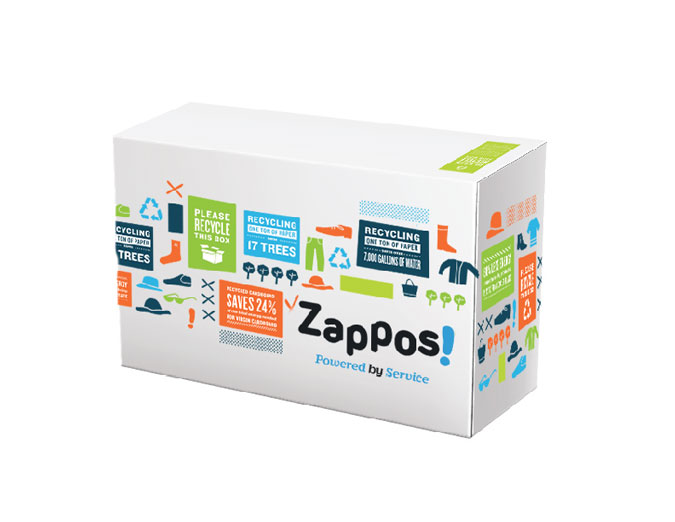 Get the Vote Out
It was the last day of the conference and I was in the final three contestants. The last challenge was to design something that could encourage the 18-25 year old demographic to go out and vote. This assignment was as open-ended as it gets, we had the option to do anything from a poster, campaign, website, performance, etc. What I really enjoyed about this assignment was how it blurred our roles as designers. We no longer had to design a logo or packaging, we were asked to create a trigger for social change.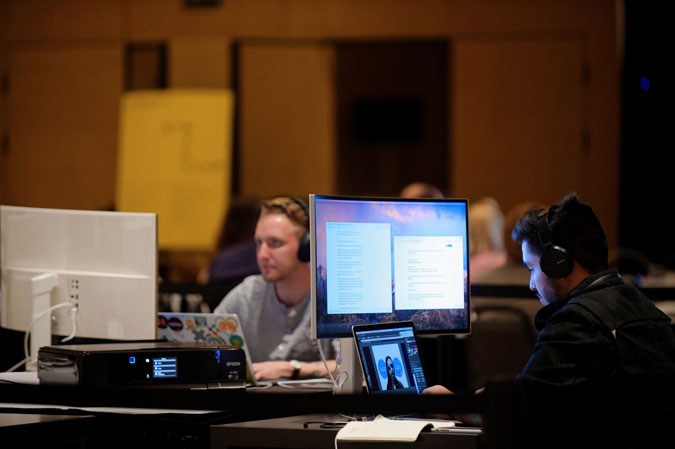 My process began with wanting to create a campaign that would juxtapose the digital realm with our physical environment. Think large text bubbles in areas where millennials congregate, informing them on how to register and vote. I liked the idea that they would function as physical "notifications" that could also point them where and when to go vote. As I started producing this campaign, it was pointed out to me that this needed something more powerful to get the millennials to vote—something more to make them care. After a conversation with designer Christopher Simmons, I realized I had to make this presentation personal and use emotion as a device to drive the message. The end result was a brief introducing to the campaign, but also told my personal story of why we needed to vote. I told my background as an immigrant and how people like myself might not get the same opportunities. The presentation turned into a partisan statement on why voting was important for many minorities. The presentation was overall well received and got a lot of praise afterward. I did not win that night but gained a lot more than I could have ever asked for, exposure, experience, confidence, and self-assertion.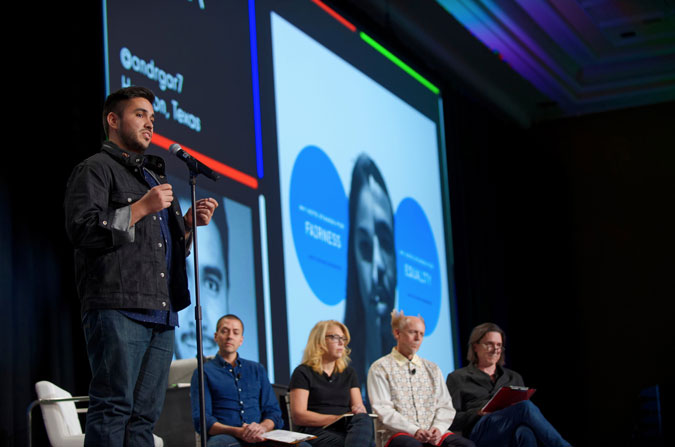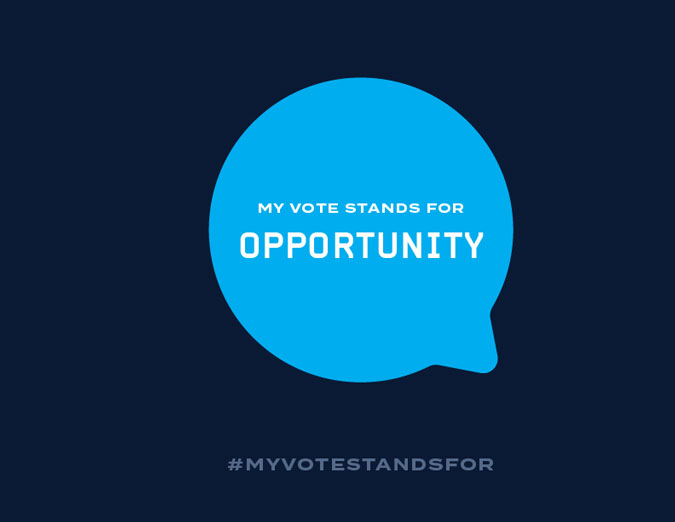 The Highlights
Command X was an unbelievable experience for me, getting to talk and get advice from established prominent designers like Michael Beirut, David Carson, and Paula Scher was among my favorite things. Having a bit of a celebrity status during the conference was pretty cool too.
My Takeaway
Command X helped me define my voice as a designer. It has given me a confidence that I hope to bring to my future projects. It also made me think about my process and how important feedback is to it. My biggest takeaway was getting to meet the other contestants and being able to establish a genuine sense of camaraderie with them. We are all still in touch and are talking about future collaborations.
Advice for students and emerging designers
This experience has shown me that I shouldn't be afraid of things that make me uncomfortable. It's easy to fall back on things we know but often forget to push ourselves outside of our comfort zone. For me, it became about identifying challenges that seemed uncharacteristic to me and taking them straight on. Progress comes in the form of small victories, about taking risks no matter how big or small they may seem. Most importantly, have fun with it, you chose to be a designer for a reason.
———————————–
You can learn more about Andres here, here, and here.
Graphic Designer at CORE Design Studio
AIGA Houston Board Member
View more photos from Command X