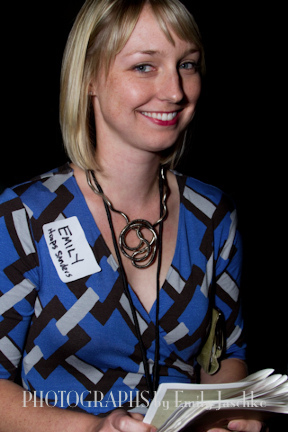 Name: Emily Hoops Sanders
Place of Employment: Museum of Fine Arts, Houston
Job Title: Senior Graphic Designer
What do you get out of being an AIGA volunteer and member?
Sometimes I get too caught up in my specific job and forget about all the great design happening in the world. AIGA events help remind me to look outside my bubble.

What inspired you to become a designer?
I have known my whole life I would be some sort of designer. It all started with wanting to be an architect, then an interior designer, and finally I settled on graphic design when I went to college.
When you aren't working, what are you doing?
Vacuuming my house, playing, volleyball, or drinking wine with my husband.
What is your favorite graphic design book?
I can't say that I have a favorite. I consider myself part book designer and part graphic designer, so I love looking at any and all types of books.
What advice would you give to an aspiring designer?
The simplest and clearest design solution usually wins in the end, but it won't be nearly as successful if you don't try all the other concepts you know probably won't work.
What your favorite place to escape to that inspires you?
Any type of furniture/home design store.
What is one place in Houston that when you're there, you don't feel like you're in Houston?
Golfing. (I can easily ignore the heat)
Where can we find you?
I am an inner-looper.
About Emily Hoops Sanders:
I was born and raised in Houston, Texas. After high school, I left Houston for the quaint streets of Providence, Rhode Island to attend Rhode Island School of Design, where I truly discovered my creativity. I moved back to Houston after college to be closer to family and have happily worked as a designer at the MFAH for the past 6 years. I'm married to a wonderful guy who doesn't know much about art and design but lets me drag him to art openings…. and once even to the Clampitt Paper Show. A few years ago we bought a house in the Heights and are working on living happily ever after.