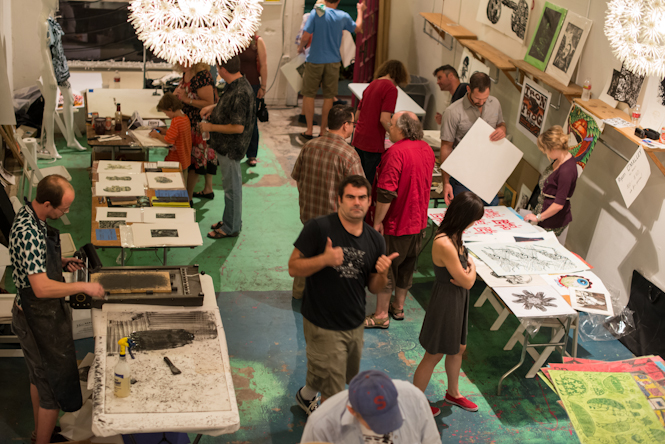 In Houston, printmaking thrives, and knew how to party last Saturday, June 30. Hosted by the city's own screen printing masters Burning Bones Press, It Came From The Bayou!  showcased renowned Texas printmakers. Promising free beer, BBQ sauce-inked prints, and a DJ spinning some of the best garage and soul music, the event venue was jam packed from the start.
Commanding the front of the venue—the old Sig's Lagoon space on Main, moved from the Continental Club's backyard due to rain—was Carlos Hernandez from Burning Bones, screening posters like madman. The 11"x14" prints were inked with BBQ sauce, and the tangy-sweet scent filled the space and the attendee's hands, as the posters were free while supplies lasted. Sean Starwars—celebrity woodcut artist and print maker extraordinaire—had a booth topped in a mountain of his colorful, infamous prints and T-shirts for sale, as did The Amazing Hancock Brothers, notorious Texana and Dirty Printmakers of America (DPA) artists.
Houston's Workhorse Printmakers, with their proof press surrounded by faux-Spanish moss and mist from a fog machine, offered print-your-own options from bayou- and horror-themed magnesium plates for $5. Attendees could also print miniature mosquitos from Workhorse's tabletop Kelsey Press for free. Tim Robtoy and the Lamar University Printmaking Department booth's offered Monstercise! prints, with a mass of creature body parts on cut linoleum mounted to MDF. Attendees picked their parts and the designs were printed in black ink on newsprint.
As the party and showcase rolled on and the Lonestar flowed more freely, an excited and unrelenting crowd of print enthusiasts explored each booth in earnest. People chatted with artists like Ryan O'Malley—a pop art, spray paint, mezzotint artist—and had comic books signed and impromptu-illustrated by Matt Rebholz. The event came to a close with The Amazing Hancock Brothers performing spoken word poetry, which ended with their knighting of Carlos Hernandez into the DPA by samurai swords.
For more PrintHouston 2012 events like this one, visit printmattershouston.org.