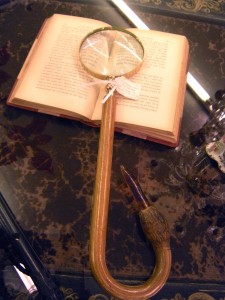 I was out and about this weekend and found a beautiful object that was begging for my attention. This magnifying glass is one of several that Diane Joplin had to offer at Antique Pavilion, 2311 Westheimer. As I picked it up, I couldn't help but think of old-fashioned times when important men would gather around a table, eagerly awaiting their turn to respect the type and look a little closer. I played pretend and passed it along to nobody while I was in the store. How such items have lost their preciousness is beyond me. I do not want a Kindle, I want to hold that husky, pretty object in my hand and smell the pages of the book I read. It is a great tool to observe more closely, the lines and curves of the print and details in hand-rendered illustrations. This display inspired me to think of how wonderful a coffee table set up this could make in the home. Imagine your favorite design book, held open to your favorite page with a beautiful relic of design history.
Back in the day, far-sighted monks polished crystal rocks and called them 'reading stones'. They placed them on text and read the type that became magnified due to the stone's shape. As glass-blowing techniques developed, artisans would fill a glass lens with water and use it observe small print. How spoiled we are to just select larger type faces or magnify with our touch pads!
Designers, if you like precious stuff and things of our past as much as I do, check out this beautiful Victorian ivory magnifying glass. Also, I found this beauty in an online archive of antiques. If you want something cool for your coffee table or maybe want to kick it up a notch in the office, go by Antique Pavilion and ask for direction towards The Brass Ring, a collection by Diane Joplin. Respect the type and enjoy your moire!
Antique Pavilion
2311 Westheimer
Houston, Texas
77098
713-520-9755