You may have seen an email or three in which AIGA Houston has mentioned our East Satellite group. We're pretty excited about having the nation's first one, and it's affording Houston and the Golden Triangle region east of us a lot of new opportunities. You can read about the group's founding, funding, and goals here, but the most interesting thing about the first-ever AIGA Satellite is that it can be whatever we make it. Read on to learn how you can help and what you've been missing.
If the goal of the Satellite group is to provide a community around creatives living and working outside the Houston metroplex, the key is consistent programming. Satellite leadership has hosted a series of "Drink-and-Draws," which is exactly, delightfully, what it sounds like. The event is ongoing, and open to any creatives (or creative individuals) who feel like they need some sketching and good company. Or booze.
Satellite's largest event thus far, with overwhelmingly positive feedback and an excellent turnout, has been the Professional and Student Portfolio Review. The review was held in conjunction with the Lamar University Design Studio and hosted in Beaumont, with attendees driving from Houston and The Woodlands in addition to other area towns.
"It was exciting seeing new faces in our design community! I knew what it was like to be in their shoes a few years ago, and I loved that I had some insight to help them feel more comfortable being there discussing their work."
—Nicole Quebedeaux, Reviewer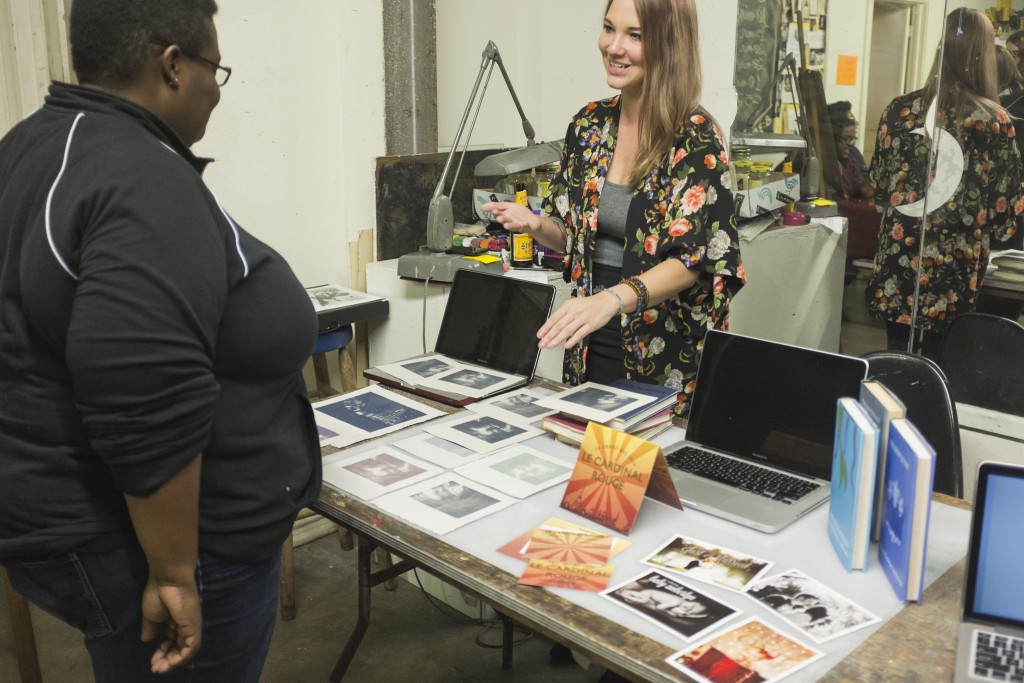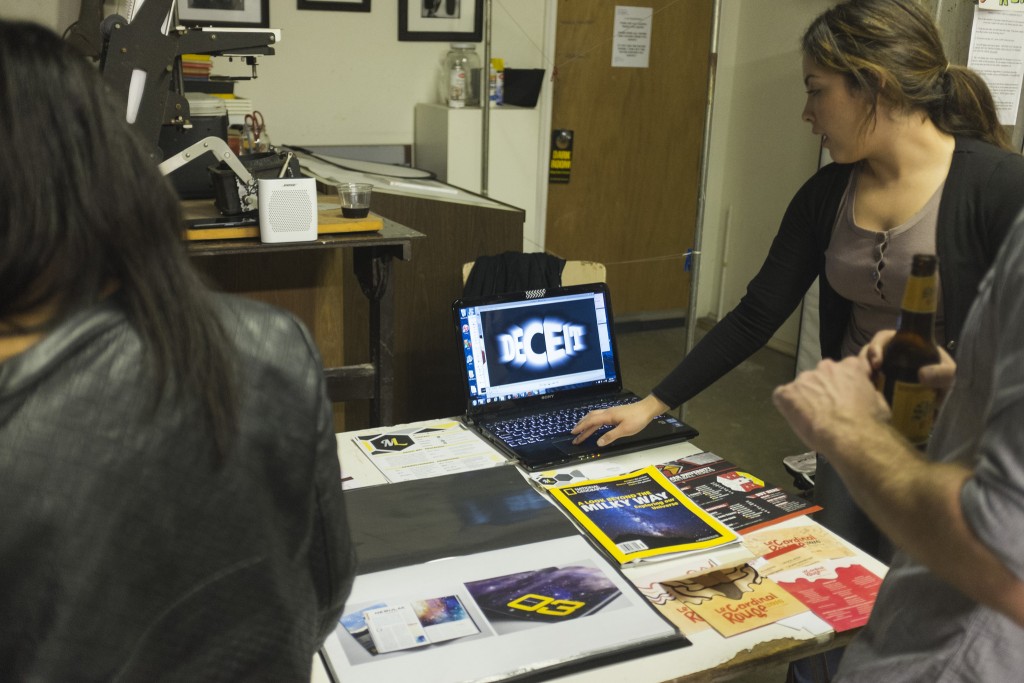 The energy at the review was vibrant. The review was one of the first design-centric events within recent memory for some who volunteered to review. For many creatives in the region, design events are rare, a struggle East Satellite is hoping to remedy by building a more cohesive community around both professionals and students.
"The laid back atmosphere allowed designers and students to feel more comfortable talking about the presented work. I feel that I received even more productive feedback at this review than at the AIGA National Conference Student Portfolio Review. It was a great experience, and I have never before been so greatly inspired to push my work to new levels than after attending this review."
—Amanda Prince, Student

"The portfolio review was a great experience! I really look forward to the next one and I felt like this was a really great way to bring together the local design community and students in a really unintimidating way to discuss work and foster a community."
—Jordan Gonzales
This is only the beginning.
Satellite leadership has organized sign painting for Valentine's day, chartered a bus for Houston Design Week, and published surveys to ensure it's helping AIGA members in the best way possible. However, it is not its own chapter, but an arm of the Houston's, which means we all share in the responsibility for its success and continued engagement with our creative neighbors. Fortunately, there's a lot YOU can do:
Communicate:
Follow East Satellite on Twitter and join the Facebook group to be informed of upcoming events. You might have to drive to get to one, but we're Texans. It's what we do.
Tell AIGA Houston about design events (in Houston and the Golden Triangle Region) as early as possible. We try to publish most design events in our weekly emails. The earlier we can begin talking about these events, the better chance we have of enabling those who live farther away to attend them. To pitch email content, send information to jo.skillman@houston.aiga.org.
Volunteer:
East Satellite is growing its leadership team and looking for interested parties to help. Email east.satellite@houston.aiga.org to offer your services, whether it's helping with programming or posting to social media.
Attend:
We'd love to see your face at any of the events hosted by East Satellite, but it's more than that. Attending is about showing up online in support of events, helping spread the word about the group to creatives living in the Golden Triangle, and building bridges to the students in the Satellite who may soon join our urban design community. It's about recognizing design and culture in all the spaces that it lives and promoting it to the best of our ability.
Give feedback:
We'd love to schedule a Houston + Satellite design extravaganza, but we're not sure what. Give us your thoughts on a meetup in the middle: Chili cookoff? Graffiti gathering? Instameet? We'd love to hear it! Tweet @AIGAHouston with ideas or locations, or email heather.cobb@houston.aiga.org.
Portfolio review photos by John Luu.