On July 27, Stefan Sagmeister will join Marian Bantjes on stage at Zilkha Hall for a presentation on their work and a conversation. To register, click here.
If anyone can lay claim to the mantle of graphic design's rock star, it's Stefan Sagmeister. This is the man, after all, who has worked with Lou Reed, David Byrne, Brian Eno, and the Rolling Stones. He's the renegade who muscled into the pantheon with his 1999 AIGA Detroit poster, the event details X-actoed onto his torso, offering an unforgettably literal take on both the pains of the creative process and his signature slant toward all things edgy.
The attitude came early. As a student in his native Austria, punk and anarchism flavored Sagmeister's first posters for a theater group. A Fulbright scholarship drew him to the Pratt Institute and soon after he joined Leo Burnett's office in Hong Kong. Naturally, his poster for an ad awards ceremony there—four men mooning the viewer, made by factory painters—was met with boycotts and letters to the editor.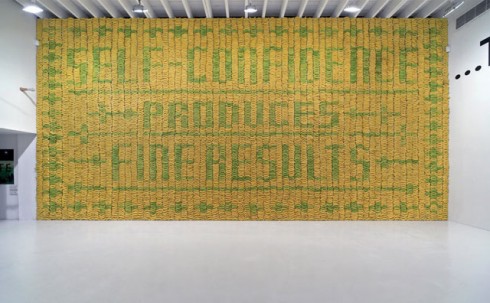 "At the opening of our exhibition at Deitch Projects in New York we featured a wall of 10,000 bananas. After a number of days the green bananas turned yellow too and the type disappeared."
After a formative stint at Tibor Kalman's studio M&Co, Sagmeister opened his own practice catering to the music industry. His CD covers and box sets—notably one for the Talking Heads—won him two Grammy awards. The next phase of his career took him deeper into conceptual typography, further blurring the design/art line in his work. He's since exhibited at New York City's renowned Deitch Projects gallery and Philadelphia's Institute for Contemporary Art.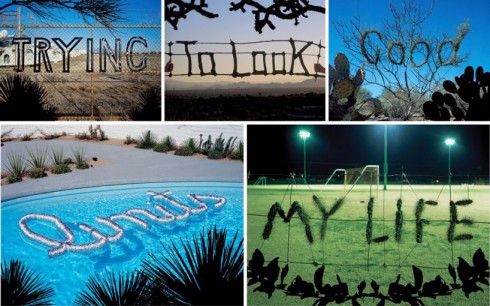 Trying to Look Good Limits My Life (2004), part of his typographic project "20 Things I Have Learned in My Life So Far."
It's his eagerness to push his craft to the edge—to playfully flout taboos, to seek the roads not taken, not only to delight and inform but also to amuse and disorient—that has carved Stefan Sagmeister permanently into the annals of graphic design.