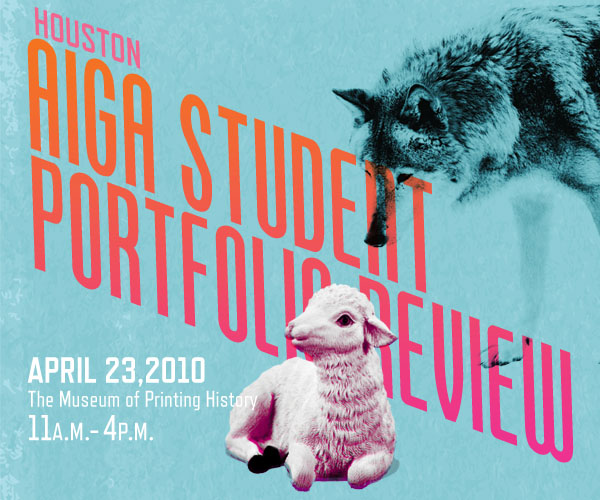 AIGA Student Portfolio Review
Friday, April 23, 2010
11am – 4pm
SCHEDULE
Review Session 1
11:00 a.m. – 1:30 p.m.
Review Session 2
1:30 p.m. – 4:00 p.m.
Mixer  @ Dean's
5:00 p.m. – 7:00 p.m.
Everyone must RSVP, click here.
COST*
AIGA Student Members
FREE
All Other Students
$25 (paid at the door)
Cash, check and credit cards will be accepted.
On-line pre-registration is required
LOCATIONS
Museum of Printing History
1324 West Clay St.
Houston, TX 77019
(713) 522-4652
 View map & get directions
Dean's
315 Fairview Houston
Houston, TX 77006
713-807-0301
View map & get directions
To RSVP, click here.
The AIGA Student Portfolio Review is an opportunity for you, graduating students, to receive constructive feedback about your portfolio and resume from experienced creative professionals in the Houston-area. Practice your interview skills and get the necessary career advice and encouragement to jump-start your career.
While this event is not a job fair, some reviewers may be looking for potential employees or interns. This event is a great way to network and become aware of who's who in the Houston design community.
Who Should Attend
Design students at the junior and senior undergraduate level and MFA candidates are encouraged to attend.
What to Bring
Come with 8 to 10 of your best portfolio pieces. You are also encouraged to bring business cards and several copies of your resume. If you plan on showing interactive work, come prepared with a fully charged laptop.
Are you a Professional?
Volunteer as a reviewer and check out the newest talent that Houston has to offer. Guide up-and-coming students with your valuable insights and advice, and maybe even find that new, shiny intern you've been looking for.
Professionals who'd like to volunteer as a reviewer should contact Denise Madera at finance@houston.aiga.org.