I keep running into publications that Jiminie Ha has worked on. They stick with me. Each bears her visual signatures: a balance of high-minded and playful, subtly rule-bound and systematic,  smart about texture and negative space. They tend to approach large ideas from fresh angles.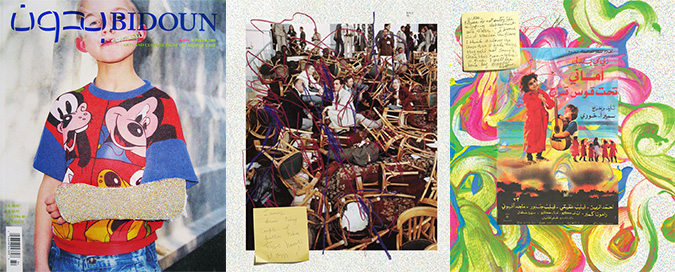 Bidoun #16. Bidoun is supposed to be a magazine about arts and culture in the Middle East. It's more than that. It's also the source of "curatorial initiatives, educational programs, artist commissions, talks, tours, performances, books, an itinerant library, and an online archive of avant-garde media." At some point it graduated from hazily defined publication to hazily defined organization.
In college I interned at a small journal called Transition, under its brilliant editor Mike Vazquez. He moved on and landed at Bidoun as senior editor. I learned this at a bookstore in Boston's Back Bay, where I recall finding him in the masthead as I stocked issue #11 with the ocean wake on the cover.
In 2009, I picked up the "Kids" issue art-directed by Jiminie.  Editors admitted that this installment, covering everything from boy assassins to Harry Potter erotica, was "slightly dark, slightly hysterical, often irreverent." The zany mix of pieces was tied together by a nostalgic primitivism: a low-res backdrop of noisy confetti + scrawls and streaks of finger paint + crinkled Post-Its + old photos. The visual formula was thematically spot-on, off-kilter and lighthearted in a thoughtful, methodical way.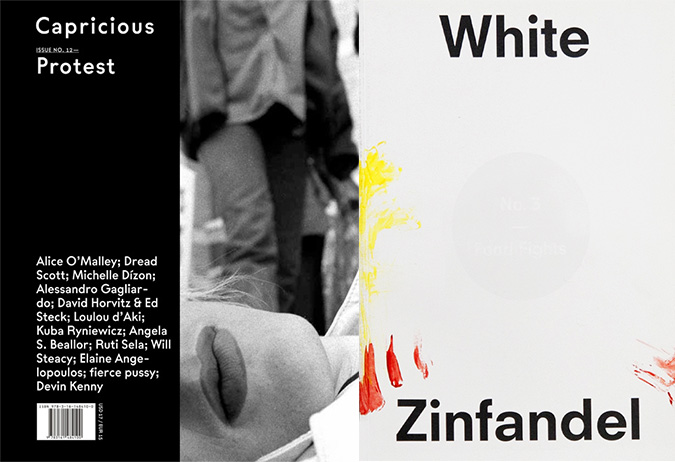 Capricious #12 . Capricious is supposed to be an independent photography magazine. It's more than that. It's also "a publishing house, art space, bookstore and bi-annual publication." Maybe you'd find it somewhere on the continuum of magazine-as-movement and magazine-as-merchant.
I found the new Capricious on a rolling shelf in a clothing shop in SoHo. What attracted me to it was its split cover, a black sheet hiding a close-up of a face on its side, a cropped figure standing in the background. This issue (#12, May 2011) focused on protest. "Images of protest as survival, as performance, and as community." A theme that's painfully relevant in 2017. It was also the first issue featuring Jiminie's new design, as the magazine widened its scope beyond emerging fine-art photography to embrace a more explicitly social orientation. (Consider that the previous issue's theme was "Being Fashion.")
White Zinfandel #3. White Zinfandel is supposed to be a magazine about food. It's more than that. It's a "serial limited edition art book" inspired by food. And launches of each issue entail a "curated dinner" thought up by a chef who interprets the respective issue's theme. Think of it as magazine as object d'art, temporary community, event framework. Jiminie started it with the principals of Leong Leong Architecture, the duo behind the 3.1 Phillip Lim flagship in Seoul.
I remember the first issue I saw: it evoked a zoomed-in Cy Twombly detail. Mysteriously spartan but for primary-color strokes and glossy circle of spot varnish. (Jiminie drafted the artist Jean-Baptiste Bernadet to treat a grid of issues as a super-canvas that recalled ketchup and mustard.) Soon afterward, I tracked down issue #1. The theme "Food" sounded deceptively simple. But it came from Gordon Matta-Clark's conceptual restaurant of the same name, a utopian place where artists cooked, ate, hung out, and performed in the early 1970s, forming the conceptual mold for later issues: a protean, experimental bridge between the zones of cooking and creating.
Save