The AIGA Houston board is filled with passionate and creative volunteers, but have you ever wondered who they are and why they serve? Now is your chance to get to know your local board and committee members below.
---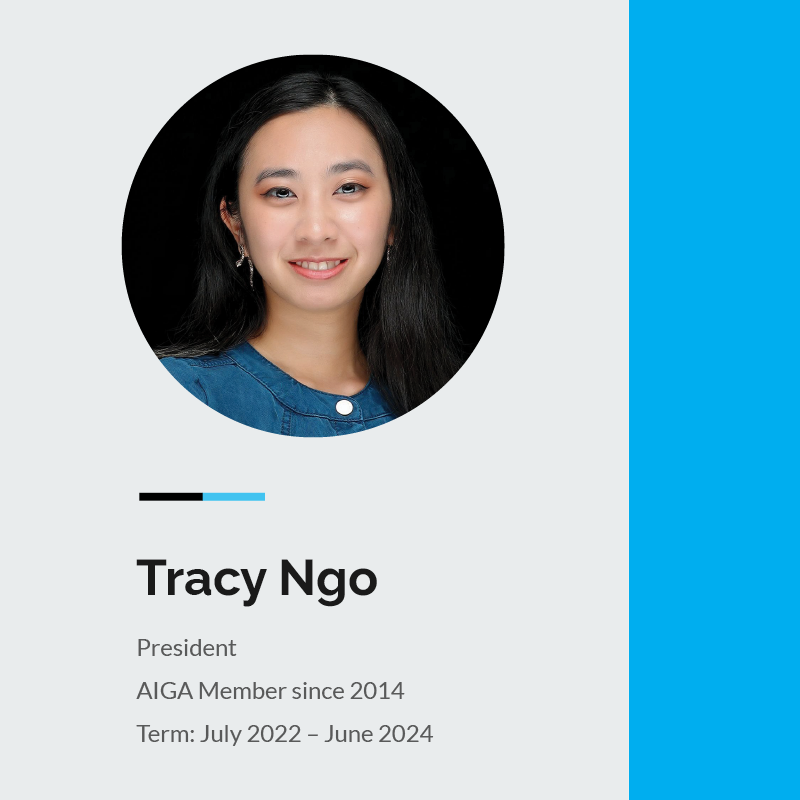 Tracy Ngo
President and Co-Operations
Board Member
WHO I AM
(She/Her) I'm an in-house graphic designer for Lockton and help my chef partner run his side business, Ooh Mami Papi. I have a cat (Plaka), a dog (Munchie), and lots of unnamed house plants. I overthink and love naps.
WHY I'M HERE
AIGA greatly impacted me as a student. I discovered an amazing community and gained career opportunities. My experience inspired me to give back and be a role model for other AAPI and female creatives.
MY GOALS
I want to put on events that will excite and bring our community together again, especially after our siloed COVID times. I also want to continue my Ops goal of building a sustainable foundation for future boards to continue our work.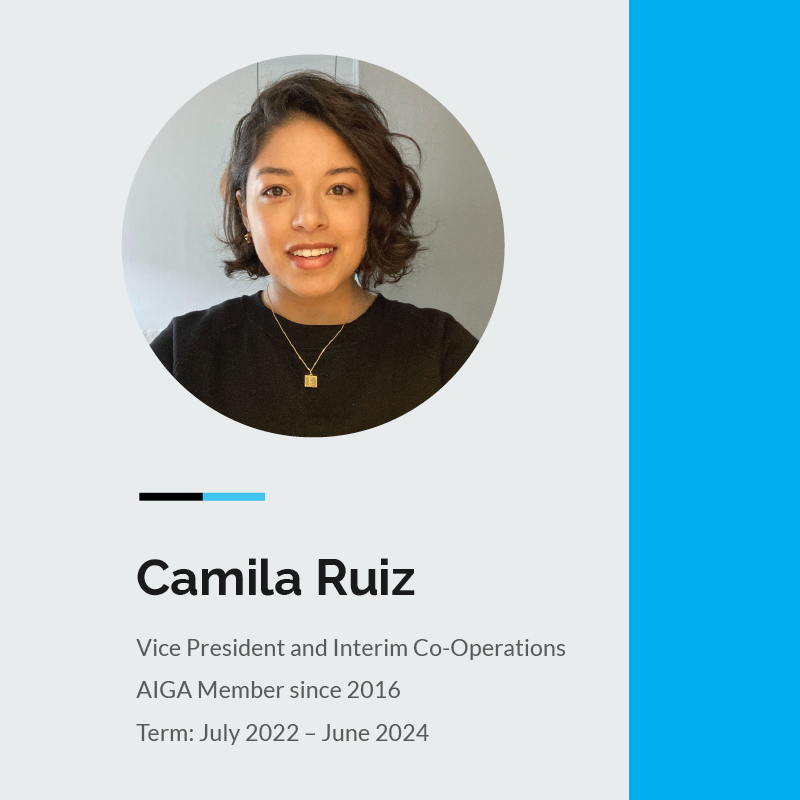 Camila Ruiz
Vice President and Interim Co-Operations
Board Member
WHO I AM
I am a senior graphic designer who is currently freelancing. At the moment I am taking a Google UX certification and teaching myself a few new UI design-related skills. I recently went to Europe for the first time and fell in love with Istanbul.
WHY I'M HERE
I have always had an interest in volunteering and being involved in my community. As a designer, I have built most of my network thanks to AIGA and I owe so much to it, so it is my time to give back.
MY GOALS
To serve our community, and to help empower our fellow directors and officers achieve their goals. Additionally, to help represent the inclusive and diverse nature of our chapter as a Latina and serve as an advocate for it. To help Tracy make all her dreams come true, and to learn, learn, learn.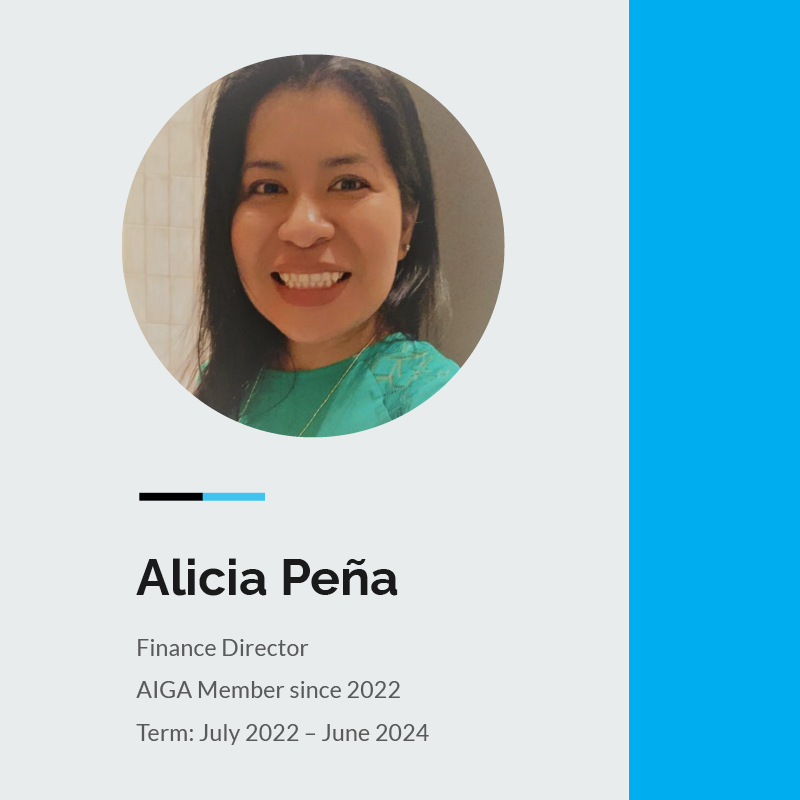 Alicia Pena
Finance Director
Board Member
WHO I AM
Hi ya'll! I am a Financial Analyst at Integra Wealth Advisors LLC.  I enjoy hiking and road trips! I also enjoying spending time with my nephews and nieces.
WHY I'M HERE
I see this opportunity as a way to give back as a professional. I am excited to work with people that share that passion. 
MY GOALS
I hope to leave a positive impact on AIGA.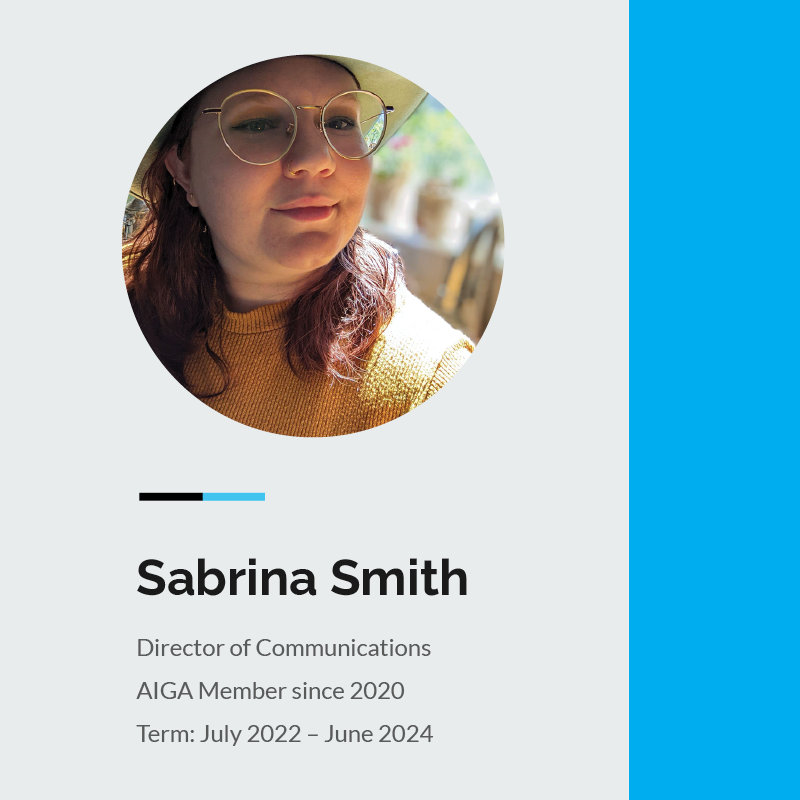 Sabrina Smith
Communications Director
Board Member
WHO I AM
(She/Her) I'm the Creative Lead for Interior Green International. We sell plants so that's really fun. I also have a small business where I make laser-cut spooky themed jewelry and decor. I like the color green and reading books.
WHY I'M HERE
When I moved here in 2019, I didn't know anything or anyone. I thought joining AIGA would be a good way to meet awesome people and get some experience. Now I'm hoping I can help do the same for others.
MY GOALS
I hope that we can have more events and opportunities for creative meetups. I know how hard it can be when you live in a vacuum with no other designers to talk to. So I would really love to bring more opportunity for connection to this community of creatives.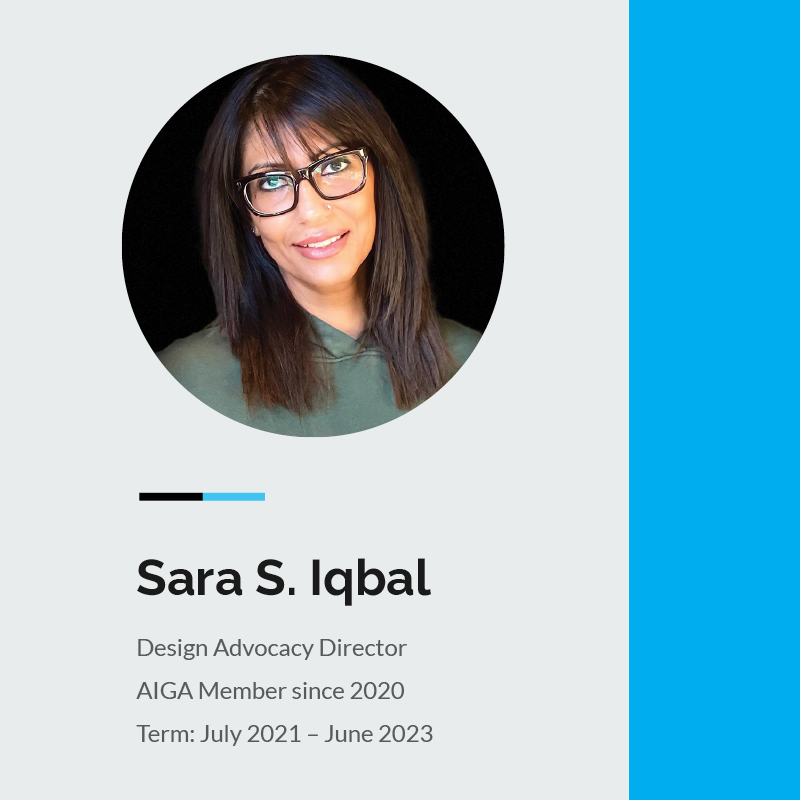 Sara S. Iqbal
Design Advocacy Director
Board Member
WHO I AM
(She/Her) I'm Creative Director and owner of Graphic Matters. I provide Branding and Digital experiences to small businesses and non-profit organizations. I'm a xenophile and love my cat "mochi." Oh, and my boys 😉
WHY I'M HERE
I'd like to give back to my design community as a professional and introduce Design as a tool for educational change and economic development to high need communities.
MY GOALS
I want to advance the profession of Design by placing AIGA members in key advisory roles in Houston School Districts and organizations that advance education for high need communities and build a sustainable program for teachers and students to learn the Design Thinking methodology for solving problems.
Alexander Velez
Programming Director
Board Member
WHO I AM
I am a Senior UX/UI Designer at Charles Schwab and a Lead UX/UI instructor at General Assembly. Outside of work, I get my daily laugh through my best friend. This is my sleepy cat, DragonKitty 🐈‍⬛
WHY I'M HERE
It is terrific to be inspired by fellow creatives who are doing amazing things. I love learning interesting new things. In the spirit of fun, it would be oh so entertaining to fuse activities with educational sessions.
MY GOALS
I aspire to plan fun events that allow for getting to know one another in a friendly supportive environment. There are so many activities to do with fellow creatives that also fuel career and personal growth.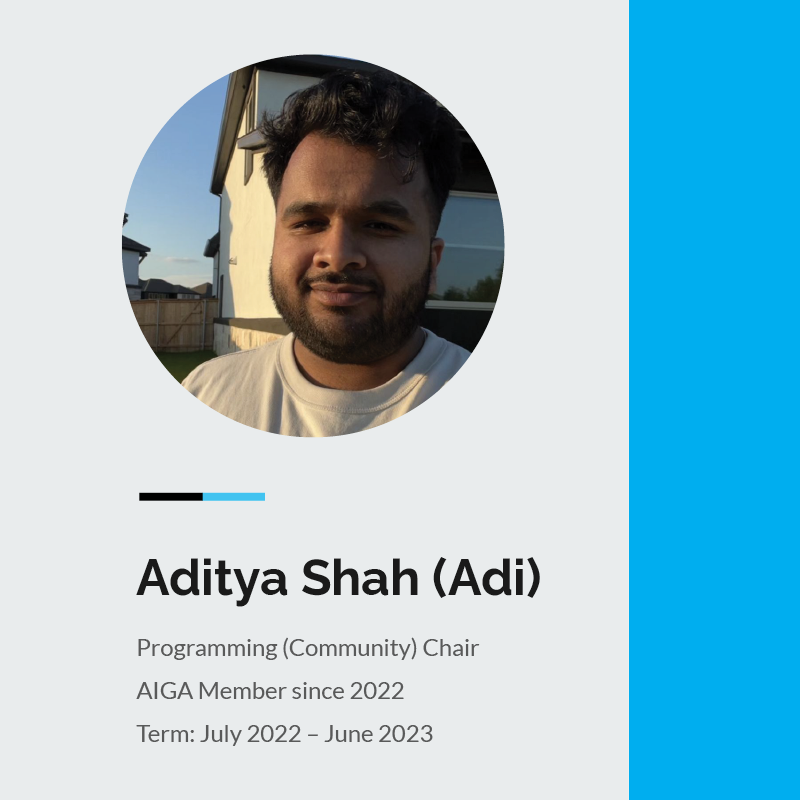 Aditya (Adi) Shah
Programming (Community) Chair
Committee Member
WHO I AM
(He/Him) Graphic Designer at Raven Creative, which is a creative ad and marketing agency in Houston! I love to try new coffee shops, and I am a huge sneakerhead.
WHY I'M HERE
After graduating during the pandemic and recently starting a new job, I wanted to be part of a community of like-minded creative individuals!
MY GOALS
I would like to create a welcoming environment for people to come together over drinks, food, art, music, etc and just enjoy the company of other creatives in the city!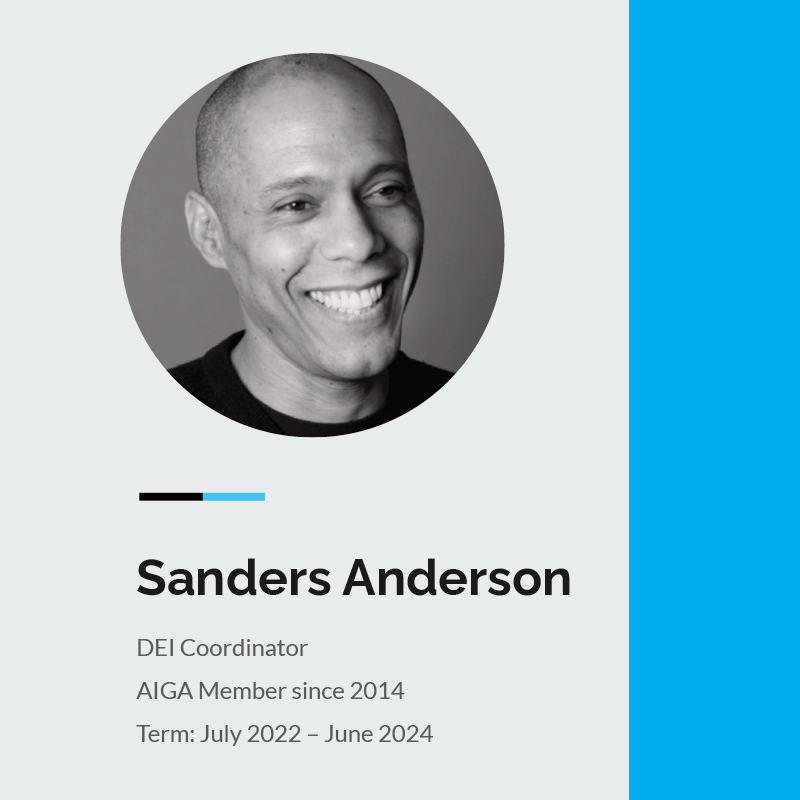 Sanders Anderson
Diversity, Equity & Inclusion (DEI) Coordinator
Committee Member
WHO I AM
(He/Him) I'm a branding art director/designer reinventing myself in the world of strategic marketing. I once danced salsa with Alien Ramirez, the 25-time World Latin Dance Champion.
WHY I'M HERE
"Everything you touch you change. And everything you change, changes you." – Octavia Butler. I'm about helping to make the small changes that can lead to bigger outcomes.
MY GOALS
I want to break down the barriers that separate us. The more we know about each other, the less we have to fear, and the more we have to gain. I specifically want to drive events that educate, inform, and inspire.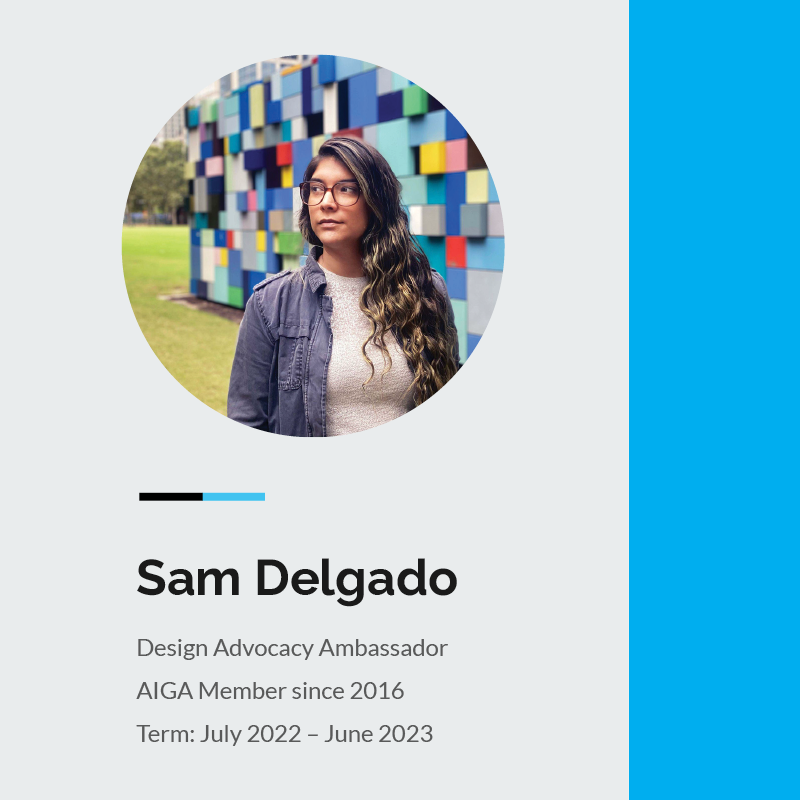 Sam Delgado
Design Advocacy Ambassador
Committee Member
WHO I AM
Currently I am an Executive Assistant hoping to transition to a design role. I have an eight year old minion. Oh and I like to create stickers, paddleboard, run, mountain bike, wander, drown in coffee, kickbox, photograph nature and so on.
WHY I'M HERE
I thoroughly enjoy volunteering, from art festivals, Subaru events, and Coffee shop Market Popups.
MY GOALS
I wish to further the design community in Houston and represent the Latinx community. I also hope to make some like minded artsy fartsy friends.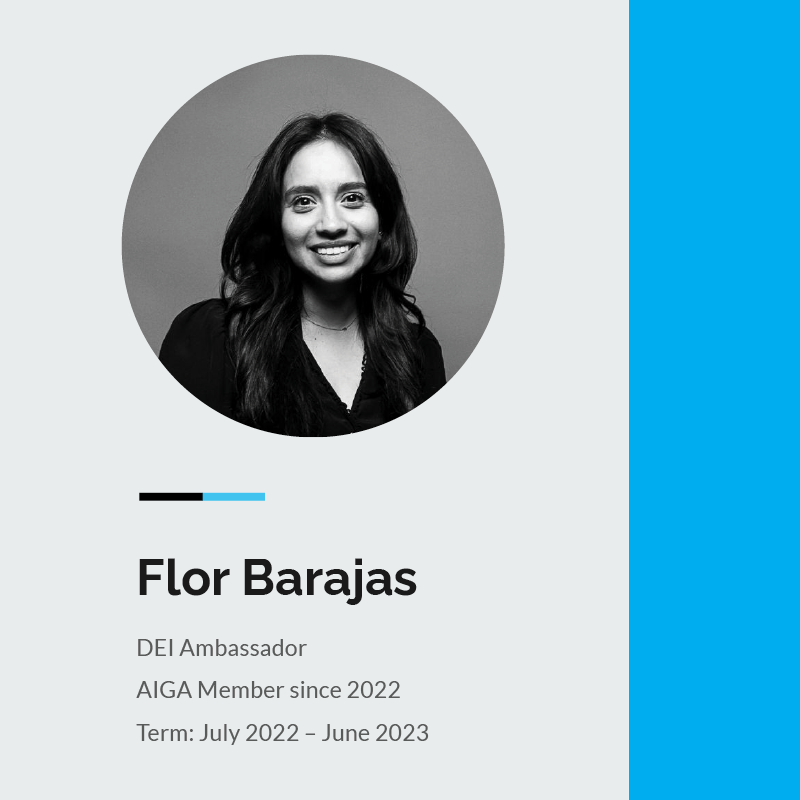 Flor Barajas
Diversity, Equity & Inclusion (DEI) Ambassador
Committee Member
WHO I AM
(She/Her) My design approach comes from practicing The American Institute of Graphic Arts – Women's Leadership Initiative model which encourages strengthening design knowledge, leadership skills, and facilitating relationships within and beyond the design industry. I have a passion for data visualization and a geek love for typography.
WHY I'M HERE
AIGA WLI model inspired my research thesis experience during grad school. The outcome was an EGD traveling exhibition to showcase Mexican women creative directors. I want to be involved in the amazing HOU design community, plus give back to our design community.
MY GOALS
Meet amazing designers, and the design community here in HOU. I want to come up with creative ways to do DEI events/exhibitions/speakers in the various art scene spaces and galleries in Houston.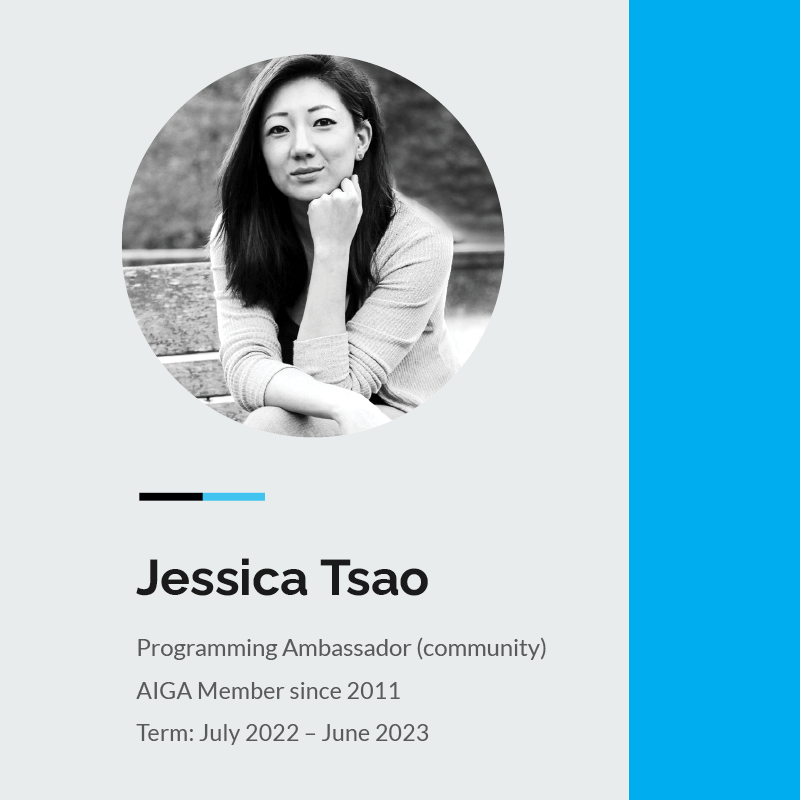 Jessica Tsao
Programming (Community) Ambassador
Committee Member
WHO I AM
I run a solo design agency, YF_Design Co. where the acronym stands for "Your Friend". This is a spinoff from my first freelance gig and I can't wait to expand. I'm a mom to two boys who are four and one. I'm an avid movie/documentary watcher, and my favorite pastime is getting together with my friends for a weekly "mental health night"…also known as "party time with my friends."
WHY I'M HERE
I wanted to reconnect with the design community and share my own experiences with new, and seasoned designers. Spreading design awareness in the city I love is very important to me.
MY GOALS
I want to be able to give back by assisting in programming that has helped shaped me through the years.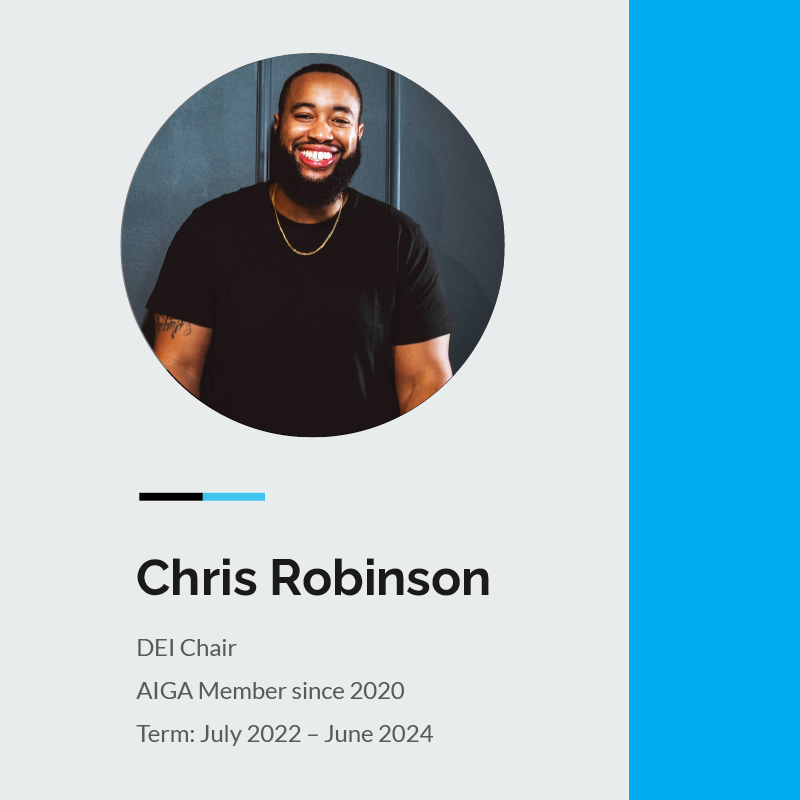 Chris Robinson
Diversity, Equity & Inclusion (DEI) Chair
Committee Member
WHO I AM
(He/Him) I'm an illustrator and graphic designer that focuses on telling the African American experience. I currently work for the Houston Grand Opera as a designer and I run my outside business doing illustrations for brands and companies all over. I was 1 of 40 to received the Adobe Artist Development fund in 2021.
WHY I'M HERE
I've always wanted to help the creative community bring together different cultures and backgrounds. And helping marginalized communities get into design.
MY GOALS
To be an advocate, bring in my creative skillset and allow people to be themselves in the space of design.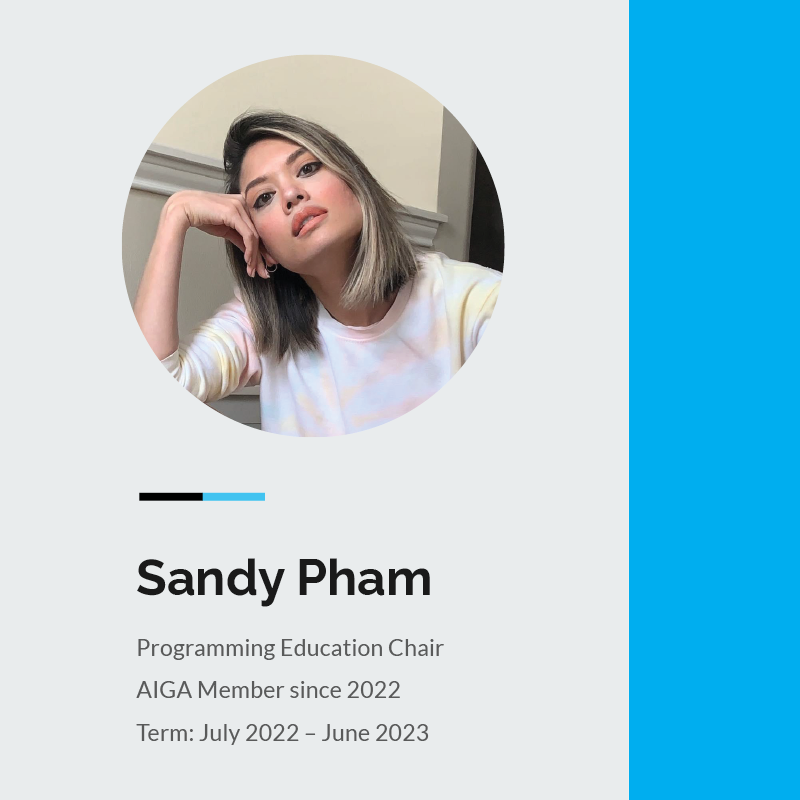 Sandy Pham
Programming (Education) Chair
Committee Member
WHO I AM
I'm a Design Director with Umbrage, a software studio. Outside of design, I enjoy many hobbies such as interior design, painting, fashion and live music. I tend to various indoor plants and personal assistant to a kitten, Luna.
WHY I'M HERE
I wanted to get back to my community non-profit roots and AIGA provides an opportunity to do that for creatives. From career help to building a new friendships, I want to contribute to this for Houston.
MY GOALS
I aspire to rebuild a place for Houston creatives to interact, connect and support each other now that so many are ready for this again after two years of being dormant. I want to drive AIGA's efforts to address gaps in what creatives need whether it be guidance in making a different career move, role ladders, upskill novices or just provide inspiration.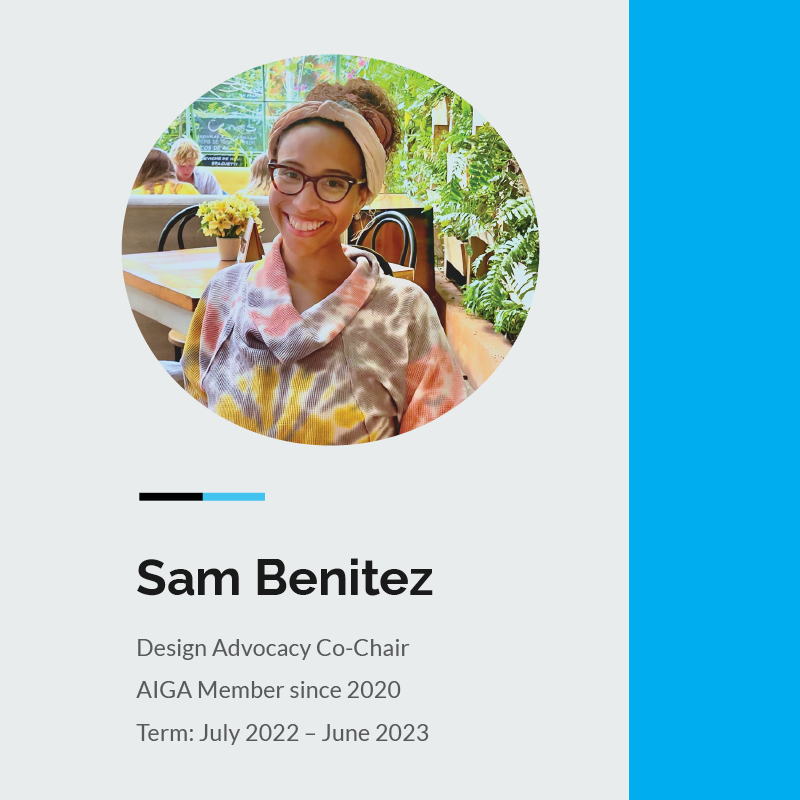 Sam Benitez
Design Advocacy Co-Chair
Committee Member
WHO I AM
I am a UX/UI Instructor at the University of Texas. I have two dogs and one cat, enjoy camping and herbalism. My goal for 2022 is to work remotely and travel for 6 months, 4 down, two more to go!
WHY I'M HERE
The design community is one of my favorite parts of being a designer. I find inspiration when I am surrounded with like minded creatives who like to share ideas and empower one another.
MY GOALS
I want to make the world a better place by starting with my own community.  I truly believe that the design thinking framework can improve the world if adopted. I am currently creating a design thinking curriculum in an effort to improve the Houston education system and ultimately the lives of children.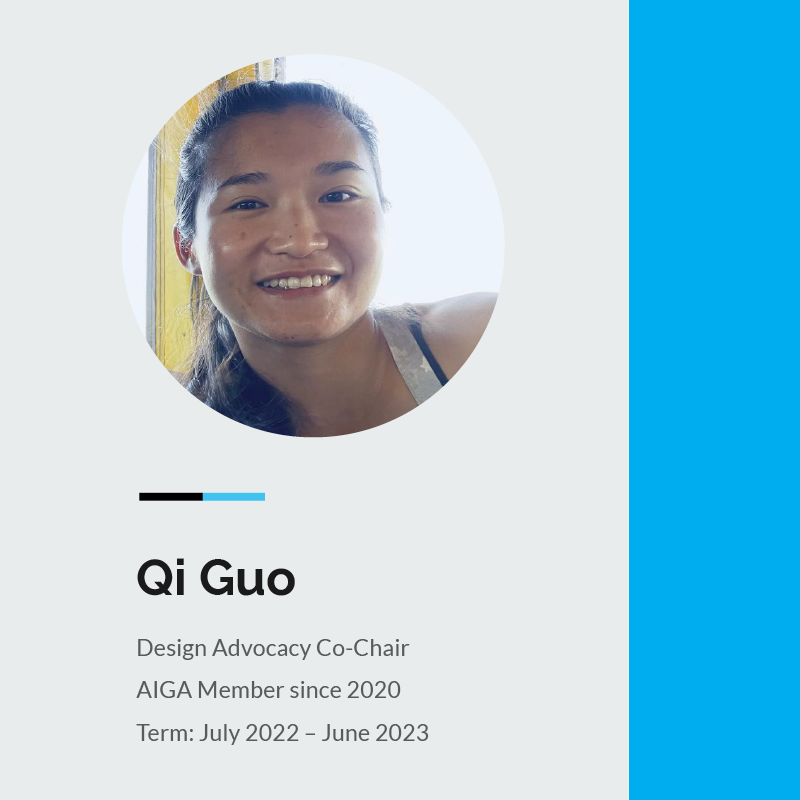 Qi Guo
Design Advocacy Co-Chair
Committee Member
WHO I AM
I'm a graphic designer at Mattress Firm. Two years ago, I moved to Houston from New York in the midst of the pandemic. I recently fell in love with flipping old furniture.
WHY I'M HERE
Helping others has always been my passion, and also wanted to be part of the design community in my new city.
MY GOALS
When I was in New York, I felt like every designer knows about AIGA. So when I moved to Houston, and started getting to know more about the design culture here, I realized that not many people know about AIGA. My goal is to help more people get to know about this amazing organization for the design community.