The AIGA Houston board is filled with passionate and creative volunteers, but have you ever wondered who they are and why they serve? Now is your chance to get to know some current volunteers serving on your local board! Read their Q&As below.
---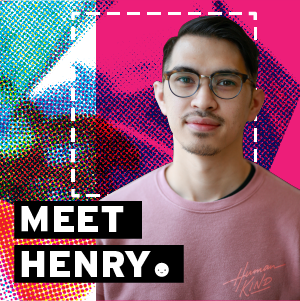 Henry Ngo, President and Interim Diversity, Equity & Inclusion Director
Henry graduated from the University of Houston in 2011 and is currently a Senior Art Director at Thrasio.
Why did you join AIGA?
I joined AIGA to help build a stronger creative community in Houston. I also wanted to build a strong professional network.
What are you currently working on for AIGA?
I am currently serving as the President but also leading our Diversity, Equity, and Inclusion initiatives. Right now we're working on hosting a workshop called "Racism Untaught."
Who is your favorite artist or designer, and why?
I think recently, I've paid less attention to individuals and more to great teams. I've really admired agencies like Character and Moniker because of the great work that they've been able to put out.
What is your vision and/or goals for the next 12 months?
Providing support for our creative community in these difficult times. Along with that, highlighting the diversity within our creative community.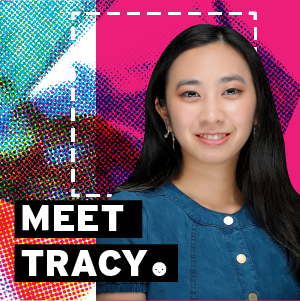 Tracy Ngo, Operations Director
Tracy graduated from the University of Houston with a B.F.A. in Graphic Design. As a remote, Houston-based designer, she works for the global insurance broker Lockton. Under Lockton's marketing department, her day-to-day consists of designing, writing, proofreading, and strategizing various marketing campaigns. Outside of work, she loves her cat, plants, sweaters, and overthinking.
Why did you join AIGA?
To give back. As a student, AIGA made its impression on me and gave me so much. I attended and volunteered for phenomenal design talks and various events, participated in the Design Loop mentorship program, and met wonderful people. AIGA was a space to belong and helped me grow professionally.
What are you currently working on for AIGA?
As Operations Director, I work on a lot of back-end systems, organization, and documentation. I am continually expanding my nonprofit governance education to help our chapter run properly. I also support other committees when possible, from assisting Communications to Programming and Design Advocacy. I'm kind of everywhere lol.
Who is your favorite artist or designer, and why?
One of my favorite artists at the moment is Felicia Chiao (@feliciachiao). Her illustrations are an interesting combination of a calming, dream-like world full of somber emotion that I'm drawn to.
What is your vision and/or goals for the next 12 months?
A top priority for me is pushing for progress in developing our governance materials. My goal for the next year is to get the chapter more organized and to build a steady foundation for future AIGA Houston boards to build upon.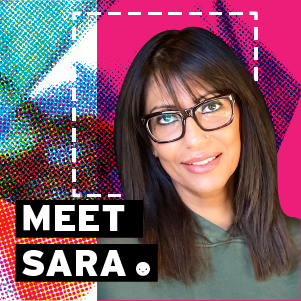 Sara Iqbal, Design Advocacy Director
Sara has a B.F.A. in Graphic Communications from the University of Houston. As a founder of Graphic Matters (@mine.refine), she provides branding, web design, and digital experiences to small businesses and nonprofit organizations. A multilingual and a xenophile, Sara is also the founder of Indus Arts Council. It's a nonprofit organization whose mission is to share the Pakistani culture through Urdu language, arts, theatre, film, and immersive cultural events. She believes we can discover many similarities and appreciate differences through cultural exchange. She is a Pakistani American who belongs to the rich heritage of the subcontinent and the silk route. Her roots go as far back as the Mughals and the inhabitants of the Indus Valley. She comes from the Chughtai family who has significantly contributed to the arts in Pakistan, hence her deep-rooted love for the arts and graphics.

Why did you join AIGA?
I joined AIGA because I wanted to reconnect with the design community for a lookout into the future of design. I was also looking for an opportunity to flex my ideas to broaden the impact of design and design professionals. Since I joined in September of 2020, I've connected with other AIGA chapter leaders across the nation who've been instrumental in providing road maps and advice for my initiative. I've gained a broader insight into the professionals' challenges in various industries through virtual town hall meetings, and have cultivated and refined soft skills that don't come naturally to designers. As a board member, I value the importance of connecting with a diverse and respectful professional community for personal growth.

What are you currently working on for AIGA?
As AIGA Houston's Design Advocacy Director, I'm working with my stellar team to develop a Design Thinking curriculum for middle and high school students in the underserved areas of Houston. While many schools in Houston offer Art classes, none of them provide design as an elective unless it's part of a technology class. And those schools are zoned to the affluent neighborhoods of Houston. It's an effort to close the gap between the understanding of design as a problem-solving tool and misunderstanding of it being just a logo, a poster, or a product. Design Thinking methodology also enhances critical thinking and will empower these impressionable minds to define a more conscientiously designed future.
Who is your favorite artist or designer, and why?
It's hard to choose between Frank Lloyd Wright, Mondrian, and Michael Beirut. But if I must, I'd pick Michael Beirut because he seems to have the power to combine architecture and graphic design. His typographic compositions and logos take on architectural forms. From very early on, he used graphic design to create meaningful content for his clients. He has democratized design and made it easy to understand by the viewer.

What is your vision and/or goals for the next 12 months?
The vision remains to elevate the design profession and professionals, and show its impact in all areas of life. My goal is to introduce and implement the Design Thinking Methodology as a curriculum in a middle or high school or a community organization in Houston by the end of 2022.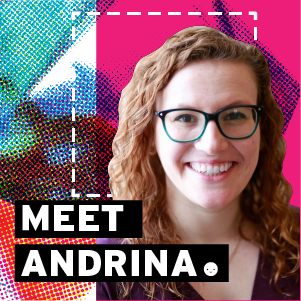 Andrina Stewart, Programming Director
Andrina is a motivated, passionate, and focused graphic designer with extensive experience working with both print and digital media. Highly adept with programs in Adobe suite such as InDesign, Photoshop, and Illustrator, she is a deadline-oriented individual with seven years of experience in the graphic design industry working on a variety of projects from marketing to managing long-term projects.

Why did you join AIGA?
I joined AIGA for professional development, the reason I am still actively involved in AIGA is because of the reward of working with my community and meeting such amazing people.
What are you currently working on for AIGA?
All things Programming and Education and Mentorship!
Who is your favorite artist or designer, and why?
This is always such a hard question for me as there are so many people that inspire me! I like to take this back to my childhood with the first artist that really influenced me, Vincent Van Gogh.
What is your vision and/or goals for the next 12 months?
To do my part in strengthening the design community.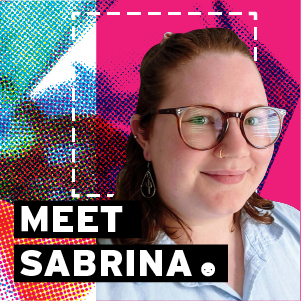 Sabrina Smith, Communications (Social Media) Coordinator
Sabrina is currently working as the graphic designer for a plant company here in Houston. When she's not updating the website, social media, or marketing materials, she is picking out which plant she's going to take home next. Before moving to Houston, she attended St. Edward's University in Austin where she earned her B.F.A. in Graphic Design. She loves all things spooky, so a lot of her personal projects consist of making occult-themed stickers, jewelry, and prints. She really enjoys spending time at home where she can relax by crafting, reading a good fantasy novel, or watching her favorite shows. Though she is new to Houston, she's falling in love with the city and its many, many restaurants!
Why did you join AIGA?
I'm always trying to learn more about design and the ways it impacts our lives so I thought getting to actively contribute to the community and enjoy the company of other designers in a leadership role would be a great way to do that.
What are you currently working on for AIGA?
I'm always searching for design news, tips, and cool typography for #typetuesdayhtx to post on social media. I'm also working on creating some mini tutorials to post as well.
Who is your favorite artist or designer, and why?
My favorite artist would probably be René Magritte because of the way he juxtaposes ordinary objects with surreal scenes. I have always been into unusual or surreal art and his paintings are a great combination of weirdness and beauty.
What is your vision and/or goals for the next 12 months?
I really want AIGA Houston to become a great resource for new and veteran designers alike. There is so much potential to help change the world and grow as artists and if we are able to impact just one person's life/goals/career, then I'll be happy.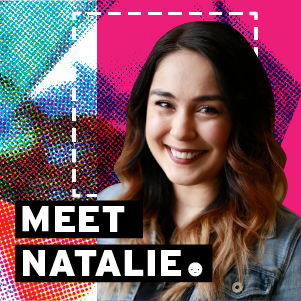 Natalie Thayer, Communications Director
Natalie is a behind-the-scenes storyteller with a penchant for iced coffee and creative pursuits. She graduated from the California College of the Arts with a B.F.A. in Media Arts, and currently works as a Senior Copywriter for Design At Work.
Why did you join AIGA?
I joined AIGA to be more involved in the Houston art and design community—and find a way to give back using my particular skill set. It's been really rewarding to tap into the city's creative current, especially getting a new perspective into local designers' and artists' creative processes, understanding what fuels their work, where they look for inspiration, and what ideas they are exploring. Though it has been a challenge navigating the past several months, being part of AIGA has been a great way to cultivate community and keep the wheels turning as we look for inventive solutions together.
What are you currently working on for AIGA?
As the Communications Director, I help coordinate our chapter's internal and external communications—ranging from cultural heritage month campaigns to policy documents. I'm always looking out for interesting industry articles and eye-catching typography for our weekly newsletters and social media. I'm also currently working on our Board Nominations campaign for 2022.
Who is your favorite artist or designer, and why?
This is such a tough one! Barbara Kruger and Jenny Holzer are two artists whose work I've loved since I was first introduced to it. Both have the ability to use text as a visual and visceral element in their work. It stirs up emotion, encourages introspection, and asks the viewer to re-evaluate the world around them.
What is your goal for the next 12 months?
Top priority—find a way to squeeze more hours into a day. 😊 But after that, I'd like to work with the board to shine a light on AIGA Houston members, introducing them and their work to the community, and helping forge new connections.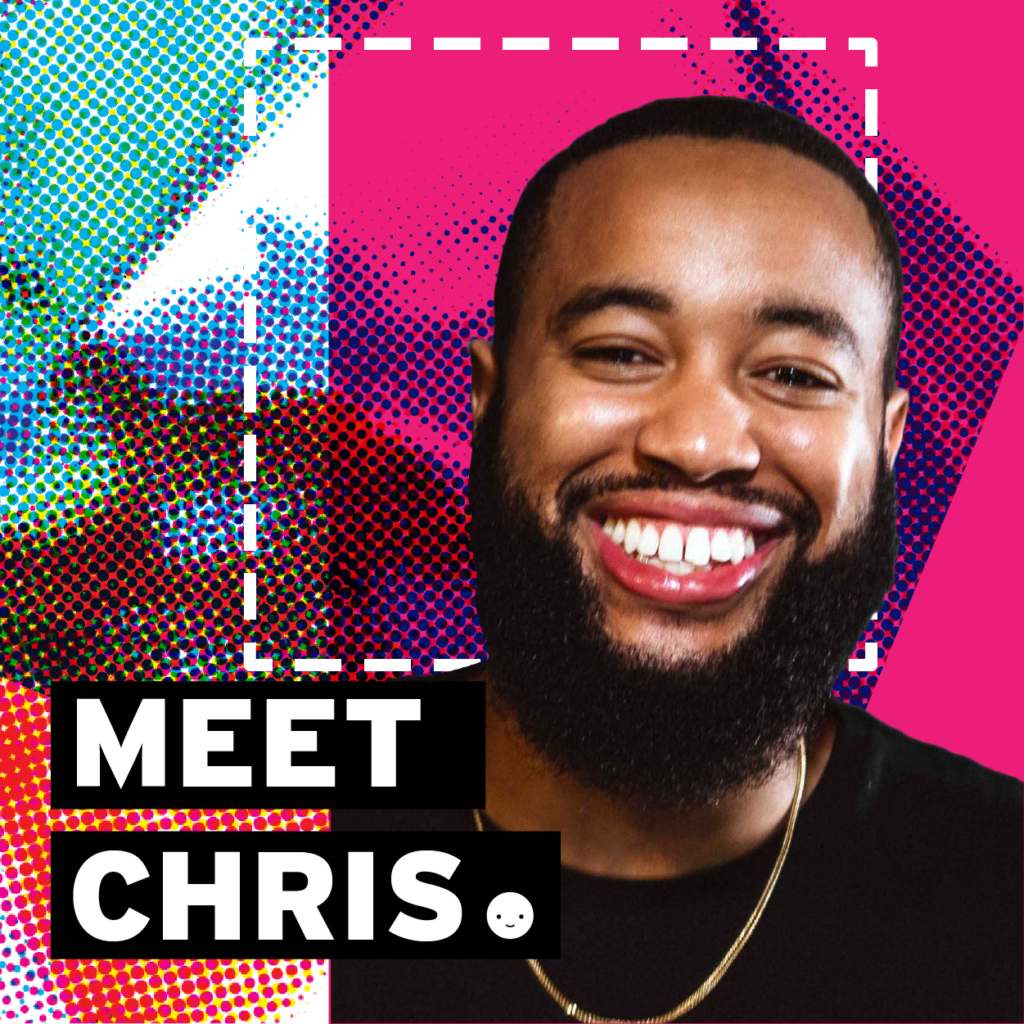 Chris Robinson, Diversity, Equity & Inclusion Coordinator
Chris is a freelance illustrator and graphic designer in Houston. He attended the University of Houston, has worked with Ave 360, City of Houston, and The Fountain of Praise, and was recently selected for the 2021 Adobe Artist Development Fund.
Why did you join AIGA?
I was interested in connecting with my design community, and getting more involved with creatives in the Houston area.
What are you currently working on for AIGA?
Working on the Diversity, Equity, & Inclusion committee, I've been able to help with the promotional material for our upcoming online workshop, Racism Untaught, and bounce my ideas around about ways to bring diversity into the design field.
Who is your favorite artist or designer, and why?
There are too many illustrators and designers to pick just one, but I'll go with my mentor Reuban Levi, the owner of Pencil Break designs and Grits Co. He's just helped me a lot with finding my style over the past few years and I really appreciate that. Plus, he's dope at the design and illustrations himself.
What is your goal for the next 12 months?
My goal is to continue to walk in my purpose, which is to use my talents to shine a light and bring Black and African American depictions to life through design and illustrations. I'm hoping to have more partnerships with companies looking to do the same. And, to inspire kids that look like me to jump into design.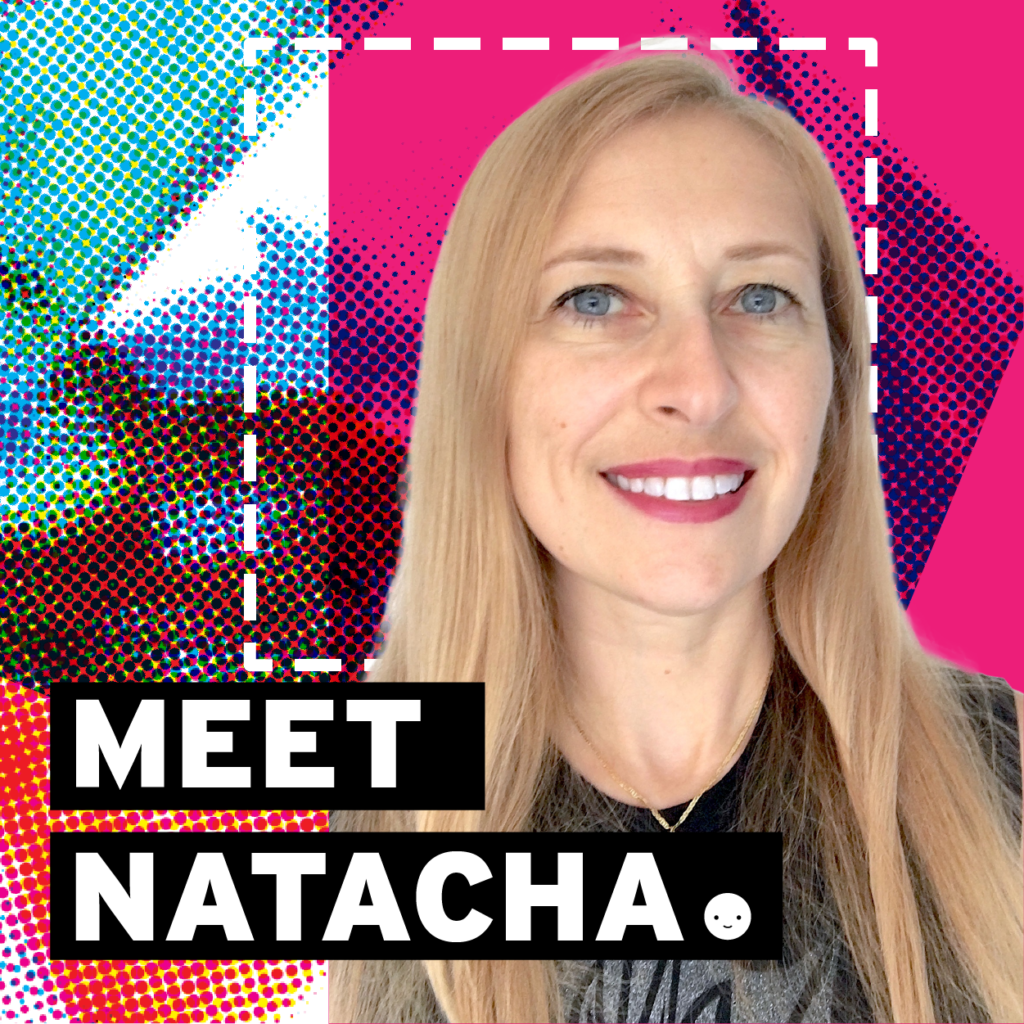 Natacha Poggio, Diversity, Equity & Inclusion Coordinator
Natacha is a graphic design educator and global health expert. She teaches at the University of Houston-Downtown and leads projects to help communities around the world.
Why did you join AIGA?
I joined AIGA after graduate school to remain connected with the field of design, in order to prepare students for their future careers. I also became passionate about AIGA's involvement with Design for Democracy initiatives as well as Design for Good.
What are you currently working on for AIGA?
At the chapter's level I am in the Diversity, Equity, & Inclusion committee helping organize events to promote design inclusion. At the national level, I am one of the leaders of AIGA Unidos (a Latinx multichapter collaboration) as well as in the Chapter Advisory Council.
Who is your favorite artist or designer, and why?
I don't have one favorite designer; my taste is very eclectic and I have an admiration for several. For example, I love Jessica Helfand's versatile career and her prolific writing. I also like the work of Bruce Mau, that is beyond design to architecture. In a previous life, I did a lot of work for museums, so I love "Local Projects," an exhibit and media design studio creating exhibitions at the frontiers of human interaction.
What is your goal for the next 12 months?
My goals are to make the association a more diverse and inclusive community, sustainable, and aware of the different types of designers out there, and also expand the value of design to create good in the world.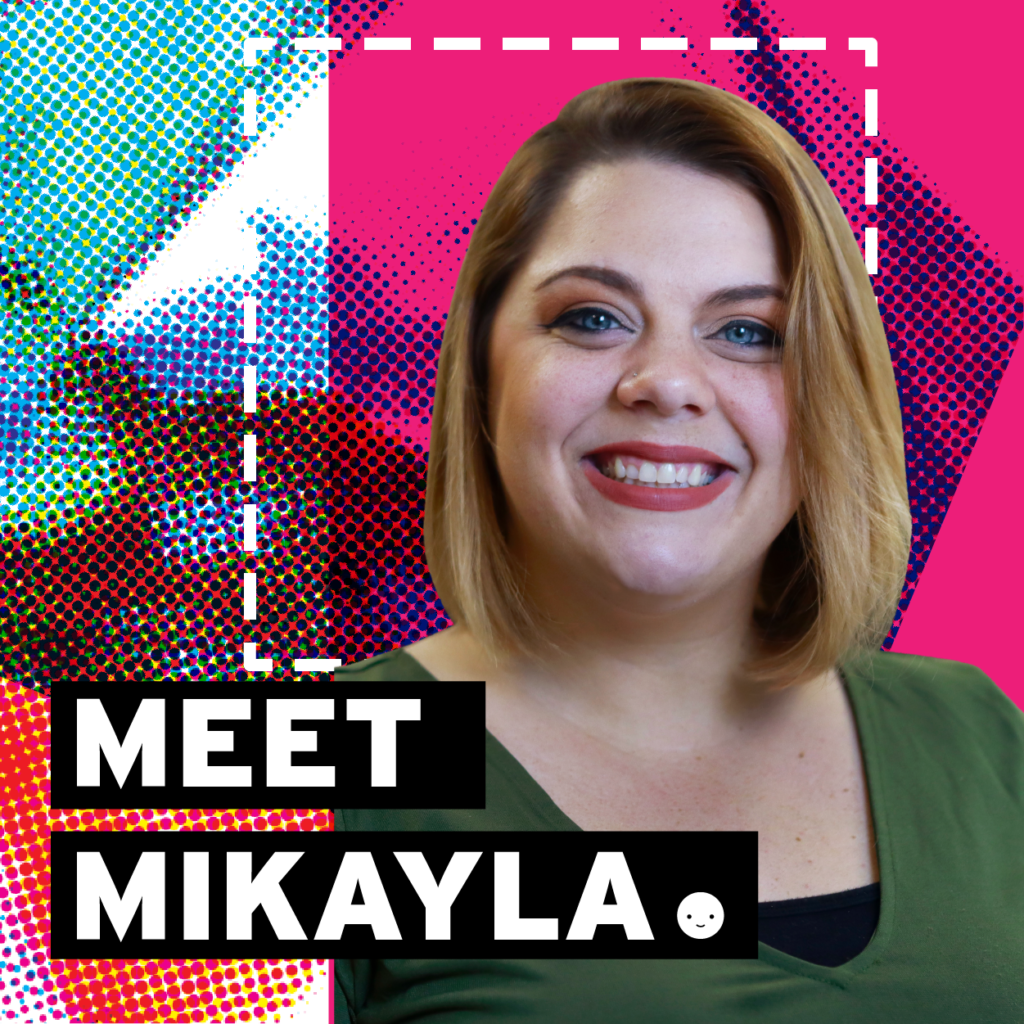 MiKayla Thomas, Programming (Community) Chair
Howdy AIGA Community! MiKayla Thomas is a design enthusiast born and raised in the suburbs of Houston. She took a brief hiatus from Texas to receive my BFA in Communications Design from Syracuse University, where she developed her love for creative strategy, branding, and design history. After graduating, she moved back to Houston and worked as an in-house creative strategist for an insurance broker for two years. In 2021, she received an opportunity to teach at her alma mater and decided to take a leap of faith. Currently, she teaches Commercial Photography and Digital Media/Yearbook to high school students of all grade levels. She is able to introduce her students to the principles of design and teach them the basics of Adobe Creative Cloud. In addition to her full-time endeavors, she has freelanced for a variety of individuals and agencies, working on brand identity development, creative strategy for experiential marketing campaigns, website design, production assistance, and more.
Why did you join AIGA?
I joined AIGA a few months after moving back to Houston in order to connect with the creative community and make friends. Working in-house at an insurance agency meant that I was not exposed to many other creatives and I wanted to be more connected to the local creative community. It was also a great opportunity to meet people with similar interests since Houston felt like a new city to me. AIGA has been so welcoming and really helped me to open my circle in Houston!
What are you currently working on for AIGA?
Currently, I am working with the Programming team to plan out events for our community. We have had a wild ride over the past few years with COVID-19, but we have a great team that has worked really well together to host a variety of virtual and in-person events to keep the AIGA community connected. I am excited to work towards hosting more in-person events in the upcoming year!
Who is your favorite artist or designer, and why?
This is such a tough question for me. I don't have one designer in particular that is my favorite, but I have so many that I admire and look to for creative inspiration. Sabeena Karnik (@sabeenu) is a paper artist from Mumbai that I am amazed by constantly! Steve Powers (@steveespopowers) combines illustration, typography, and humor together in the best way. Any of the incredible designers from my cohort at SU, who genuinely blow me away with all they have accomplished already. And so many more! I love looking to other creatives–who might even work in a totally different medium–just to see their process and how to solve problems.
What is your goal for the next 12 months?
I'm really looking to push myself creatively, build my portfolio, and continue learning new skills. Design and creative strategy is where my heart and strengths are, so I'm looking to put that back at the forefront of my life. I am looking forward to working with my AIGA team to craft experiences for local creatives to connect and network as 2022 unfolds.
---
Thank you to our participants for sharing their Why AIGA stories with the Houston creative community.