June is Pride Month which commemorates the 1969 Stonewall Riots and recognizes the impact of LGBTQA+ people have had in the world. As we reflect on the history of Pride and the impact made by activists such as Marsha P. Johnson and Sylvia Rivera, we celebrate the work of today's advocates of equality and members of the community — near and far. Hear the stories of local LGBTQA+ community members and learn more about their impact on our city.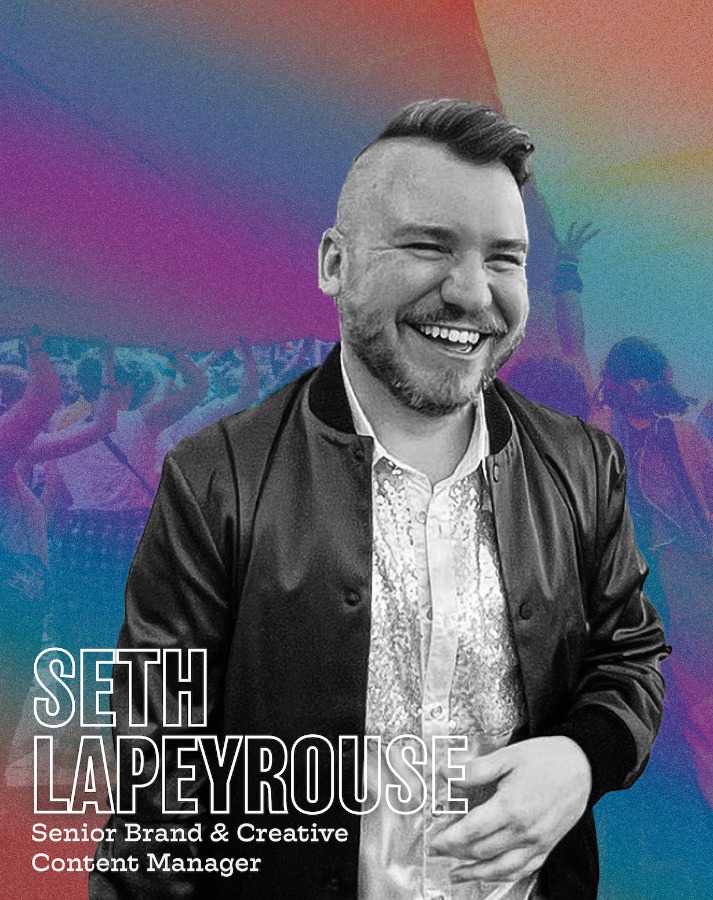 Seth Lapeyrouse
Seth Lapeyrouse is a born-and-raised Cajun from southern Louisiana, now living in Texas. He received his BFA from Nicholls State and MFA from the University of Houston, where he taught for many years. Seth has since then branched out into brand and creative marketing in the fashion industry, and is currently working at Consuela based in Austin, Texas where their mission is to Make Today Ridiculously Awesome!
How do you celebrate Pride?
I always celebrate Pride surrounded by the friends and family that make me feel the most myself. It wasn't always a cake walk, but I'm just as proud of the people that have walked the journey with me.
What drew you to your creative field?
I was always a creative kid growing up. I believe it was my openness and understanding that everything around me had the potential to evolve, be something different, be something great that really drove me into my creative field….you just have to look for it and embrace the possibilities!
How has your creative practice changed or evolved over the past year?
Over the past few years, due to COVID-19, I think a lot of people had to reassess the world around them and rediscover where they pull inspiration from. And, my journey was no different. I decided to create mini projects for myself that kept my mind questioning and my fingers making. Not everything has to be put in a museum, but making the choice to just CREATE and MAKE is winning half the battle. Sometimes the process of making is way more interesting than the end result and that's where the magic really happens.
What's next on the horizon?
I think it would be really amazing to design, photograph and illustrate a cookbook. What can I say? As a designer I really love eating pretty food, and you don't have to take a world-renowned chef to do it. Easy, well designed cookbooks have taught me that, and I think it would be a blast to design one of my own.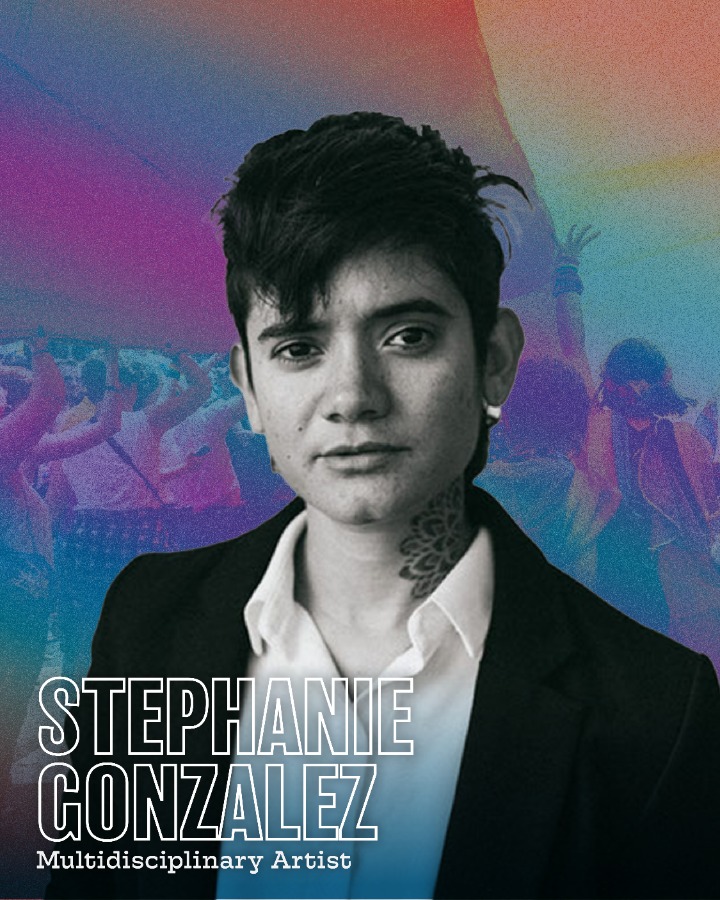 Stephanie Gonzalez
Born in Monterrey N.L. Mexico, Stephanie Gonzalez grew up with her grandparents in Reynosa, Mexico, and picked up painting from her grandfather. She began painting at the age of 14 to escape a hostile environment and later started developing new techniques and experimenting with different mediums. As a child, Stephanie moved to Georgia, back to Mexico and then to the Rio Grande Valley in Texas. After high school, she moved to Houston where she currently resides. Stephanie creates mixed media abstract paintings, graphic design, murals and interior design. She has been known to use a variety of media such as coffee, wine, aerosol paint, watercolors, acrylics, oil pastels and china ink. She holds a BFA in Interior Design from the Art Institute of Houston and an MFA in Painting from Houston Baptist University. She has received awards from the Glassell School of Art, Brownsville Museum of Fine Art and Rising Eyes of Texas. Public murals and collections include Starwood Hotels Le Méridien Saigon, Lot 8, Chloe Dao Boutique, Skyline Art Services, Make a Wish Foundation and Pearl Bar.
How do you celebrate Pride?
I celebrate pride by getting together with my friends, typically at my studio in downtown Houston. It's a whole ritual. I like to use acrylic markers and face paint to paint each other's faces and bodies and get creative. Pride is an opportunity to make your friends and loved ones feel celebrated and appreciated. It's a big love fest! We encourage each other to try outfits we otherwise wouldn't. We try out different parts of ourselves by sharing clothes. After spending time together, we typically go on foot in a big group to the parade. Overall, I celebrate pride every day by being myself freely and expressing my true self.
What are the proudest accomplishments of your career?
Every time I can give back to the community through my work is a proud accomplishment. I have had some institutional recognition throughout the years showing my work in a couple of museums, which is spectacular for your professional artist CV resume. But there is something so satisfying about knowing that you can give back through your work by donating funds from an auctioned painting to a local charity or organization that helps those in need. I am very grateful for the juried shows and art competitions I have participated in but giving back will always be considered my best accomplishment.
What drew you to your creative field?
Bob Ross VHS tapes. Let me explain. My grandparents took care of me and my sister in the summers while we were growing up. We spent a lot of time with them in their Reynosa, Mexico, home.
I followed my retired grandfather around as he painted religiously while watching Bob Ross at 5 AM on his TV at full blast. My grandfather had hearing loss, so sleeping in in the summers was out of the question due to the loud blaring TV. Bob Ross determined my path at a very young age. His tapes helped me find the love of my life: painting. After I learned a couple of techniques from his show, I realized the act of painting could take me away from anything I was dealing with in my life. It became my world within a world where the sky could be any color I chose and expression was the only rule to follow.
How has your creative practice changed or evolved over the past year?
My creative practice has evolved in many ways. My source of inspiration has shifted. I used to be very inspired by my personal experiences. My lovers at the time were my muse and constant source of inspiration for years.
Living in Houston has allowed me to meet many different kinds of people. The way I see things has changed throughout my experiences in this melting pot of a city. My work was previously completely attached to the idea of struggle and the power the mothers hold within the home. Having grown up with mostly women in my family, I attach deep meaning to their struggles and stories and find them to be something worth making art about. In those works, you can see hints of things that relate back to the female for —the uterus, the form of a nurturing figure, lace, anything I can get my hands on to put on a canvas that relates back to the female. These days I am focused on an ongoing series that references the spiritual world. I call this series "Geometric Landscapes." You can find out more information about them on my website megustapintarsi.com.
What LGBTQA+ designers and creatives inspire you? Why does their work resonate with you?
One of my favorite music and artist creators is Luz from the band Y La Bamba. I have many creative friends in the LGBTQA community but to name a few that inspire my work, I recommend following Douglas Welch, @rosebutter_ and Kara Timmons.
Where do you find inspiration?
I find nature and meditation to be my main source of inspiration these days.
What's next on the horizon?
To inspire others to create is always my goal.
---
Thank you to all of our participants for sharing their experiences with the AIGA Houston community.
Design by Rachel Flores.